Spring Chick Bento
I know right now that people on the mainland are freezing their butts off and cursing people like me that have chattering teeth in 60 degree weather, but with nothing from now until St. Patrick's Day, the local supermarkets have already busted out the Easter goods and the front aisles are all filled with egg dye, plastic eggs, baskets, and candy. And so with nothing else to really do, I've decided to start my spring bentos early.
I've talked before about how I'm now utilizing my neglected stash of scrapbook papers as backgrounds for my bento photos, but last night I figured out another way to use some of my old scrapper goods to make this cute little spring chick bento.
Besides having my own weight in papers lying around, I also have a huge stack of old issues of Better Homes & Garden's Scrapbooks Etc. magazine. Normally when I read magazines I rip out what I want and toss them, but Scrapbooks Etc. is such a useful magazine that I just never could throw any issues away. They usually come with tear out paper patterns of cute things you can trace and cut out. I think this chick was from an old 2007 issue. There are a few more Easter templates on the page and so I'll try them out next week and maybe do a more comprehensive write-up on how to use other hobbies in bento.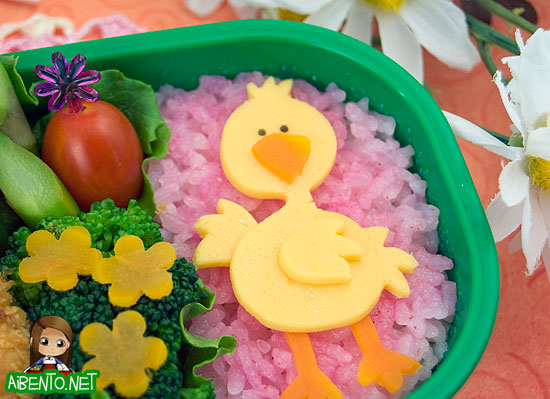 At first I was going to make him out of egg, but I added too much water and the dang omelet just wouldn't hold up to flipping, so I simply let the rice cool down completely before adding a cheese chick.
I started off by boiling the broccoli, asparagus, and some thinly sliced carrot together. To color the rice, I simply sprinkled some hana osushi no moto (pink powdered rice vinegar) on it. The powder melted and made a nice background for the chick. I lined the rest of the box with green leaf lettuce, then added three ebi fry to the side. The shrimp I used were actually huge, so I had to chop off about an inch off the bottom to make them fit and brought the "butts" with me in another container.
I added the broccoli, asparagus, and tomato, then topped the broccoli with three flowers I made with a cutter from my Fondant Flower Making Set
.
To make the chick, I made a photocopy of the original magazine template page, then cut out the pieces from the paper. I laid it on the cheese and carrot and cut with a knife (carrot) and toothpick (cheese). I punched out two tiny nori eyes with one of my nori punches and carefully applied.
Isn't he so cute?? Once I'm done with the set, I'll send it to the magazine. I'm sure they'll be tickled to see that their designs aren't just good for scrapbooks now.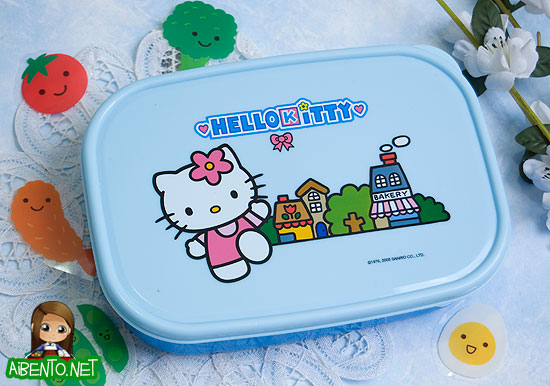 I have two more Docubentory additions today, both are Hello Kitty boxes. These are actually really flat, but have a great size and shape.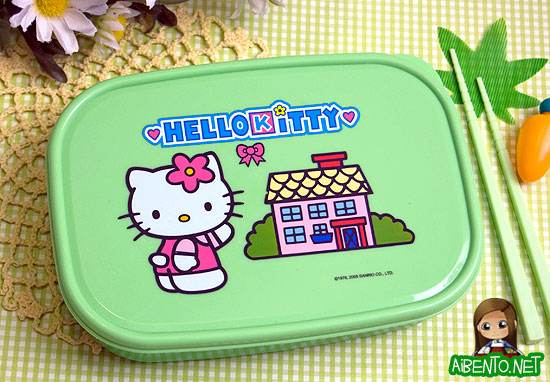 I like the green one better than the blue. The blue is just so hard to work with color-wise!
Hope you all have a great weekend!!