Miss Domo Bento
I forgot to mention yesterday that before I packed up Miss Hello Kitty, I showed her to Baby Girl. Her face lit up with a smile, which is promising. With Spring Break coming up soon and home lunch being needed, maybe Hello Kitty can coax bentos back into her heart.
I've been really girly girl this week, posting princesses and little girls in kimonos and Hello Kitty. Now it's time to put some bite back into my blog and who better to do that with than Domokun? I still managed to stick with a girl theme though…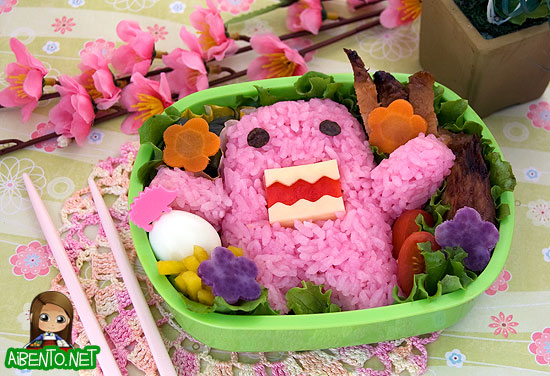 If you don't know who Domokun is, 'he' is traditionally brown and is the mascot for a TV station in Japan. Last year I found out that there are pink Domo dolls available and so I've been looking for one. I found them on Amazon
, but they were sadly all sold out.
This bento was pretty easy to make. I cooked the rice last night to save time and started off my morning frying pork chops I'd had marinating in my aunty's Teri-Q sauce. I sliced them up and let them cool. I mixed rice with hanaosushi no moto and then shaped the body and arms (separately) with saran wrap. I lined the box with lettuce, put Miss Domo's body in, then added pork slices. There are pieces of pork propping her head and right arm up. I let Baby Girl taste some of the rice and she said she liked the flavor, also promising.
Tucked into the top left area are some cucumber pickles in a paper cup. On the lower left is a boiled quail egg and sliced takuan. I ran out of white cheese and forgot to buy more, so luckily I still had the block of Monterey that I used for my LOST bento earlier this week. I used a charaben cutter to make the teeth and painted the bottom cheese slice with red food coloring.
It was pretty hard to slice thin, so when I put her mouth on, I used the end of a Yogurtland spoon to make an indentation in the middle, that way her mouth would be level with the onigiri. The bad news is it shifted the rice all over, so she doesn't look as smooth. I cut her eyes from nori with a scissors. I had leftover carrot and potato slices from yesterday, so I used those to make some flowers.
So do you think she'll bite me when I try to eat her? ^_^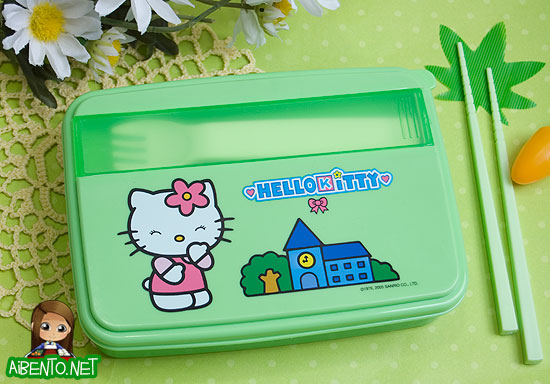 Here's Box 014 in my Docubentory. I think I've only used this one once…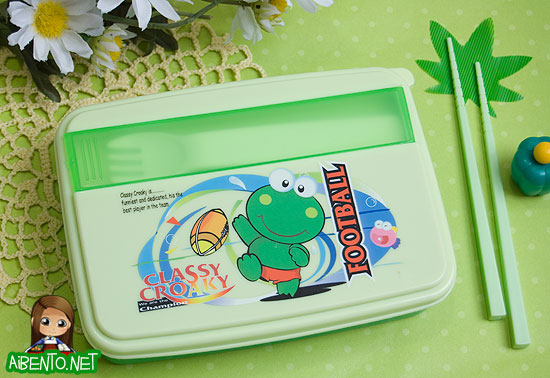 This should be the last of my green boxes for a bit. I need to sell off a couple of these as the shapes and colors are exactly the same, just with different designs. I've now wised up and realized that only the bottom really matters when it comes to getting different boxes. I feel quite silly having so many same shape, same color boxes…