Mr. D Bento #1 – Stroganoff
Okay, so yesterday I mentioned that my bento things for Mr. D were supposed to be coming in, and they arrived right on time. I was all set to make him sandwiches, but then I remembered that I needed to ask him what he wanted. Good thing I did, because he ended up asking for leftover dinner, which was beef stroganoff (the Hamburger Helper kind—still not apologizing for liking it, lol).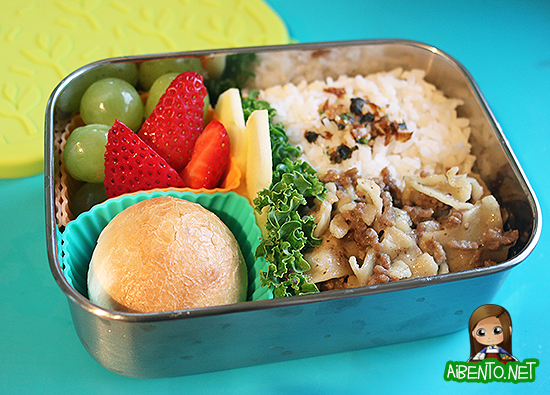 I showed it to him, and he immediately said he didn't want the grapes, but I didn't have anything else on hand, so I told him to just give it a try. I cut them all in half still on the stem to help eliminate any choking hazard. He doesn't really like rice, but I didn't have time to cook scrambled eggs for him this morning, so I needed something to fill in. Plus, I'm kind of hoping he'll just eat it anyway.
Oh, that reminds me. Something that's changed about me in the last couple of years: I can't eat rice.
I KNOW. OMG. It pains me just writing about it, but after years of struggling with stomach issues, I did some elimination eating and figured out what the problem was, and it totally is rice. I can still cheat now and then, when I'm feeling pretty good and we're out eating sushi or something and I just can't take it anymore, but for the most part I've had to go rice-free in life. *sob*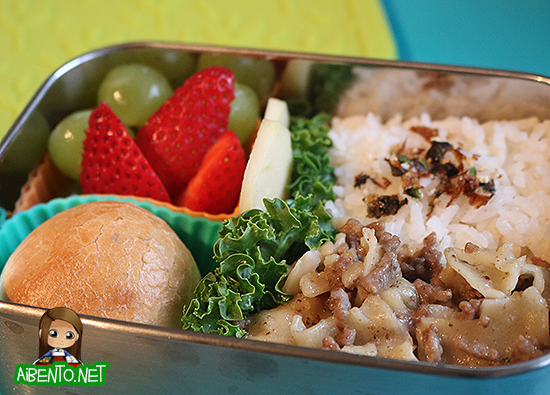 Also in the box: strawberry wedges, two thin slices of Envy apple (our favorite right now!), and a cream cheese Bantam Bagel (I saw these on Shark Tank once!). And yes, that's kale in the middle, but it's purely decorative. I've been making kale chips in my air fryer—SO easy, by the way—and so I felt like I could spare just a little bit to have a separator and to add more color.
Not sure if he'll eat the bagel, but we'll see. I bought some mini chocolate chip muffins to replace it if he doesn't, though I had to hide them in the freezer to make sure my teens don't inhale them.
And that's it! Day 1! Hopefully it doesn't come back full, the ultimate sign of home lunch fail. I'll give an update on it in my next post.