Oyako Donburi Bentos
Lots of bento pics today! I took the day off yesterday because hubby's eye was so red that I needed to drive him to the eye doctor. Later I was supposed to pick up the kids at my niece's softball game and since it was at 5:00 I figured, what a great excuse for making bento! I decided on Oyaku donburi, which is always a hit with the kidlets.
It's quite easy and very yummy! I chopped all the ingredients much smaller for the kid's version. For the other half of the bento I defrosted edamame (frozen, pre-cooked from Costco) and shelled them and added mandarin orange slices for them both and added raisins for Buddy. They both look exactly the same, but I took pics of both anyway. Here is the one for Baby Girl: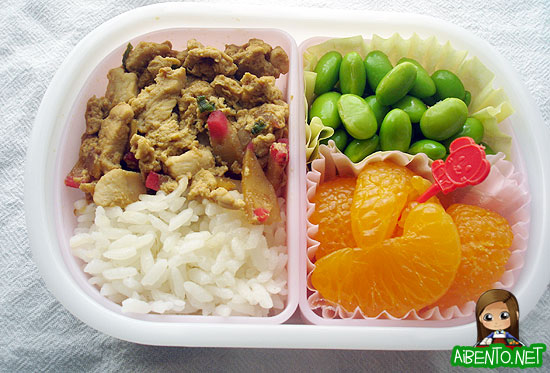 Here is Buddy's bento:
After the game I came home and cooked for myself. Hubby had eaten a big lunch and declined dinner, so I was able to add onions to this dish for the first time in like, I dunno, 10 years?? Usually I drown it with onion powder. As expected though, he kept going to the pan after I was done and eating food out with his hands. >:( Anyway, here is tomorrow's bento: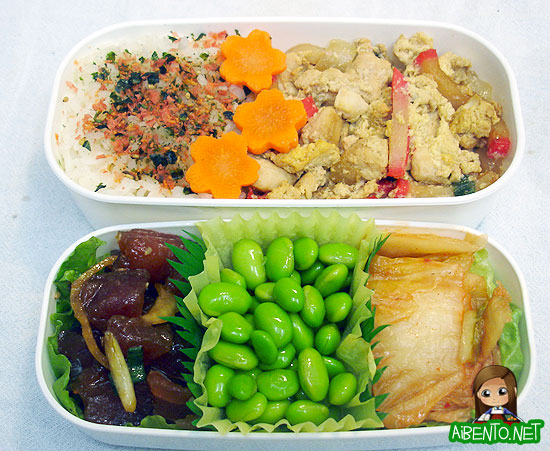 Top dish is rice and oyaku donburi.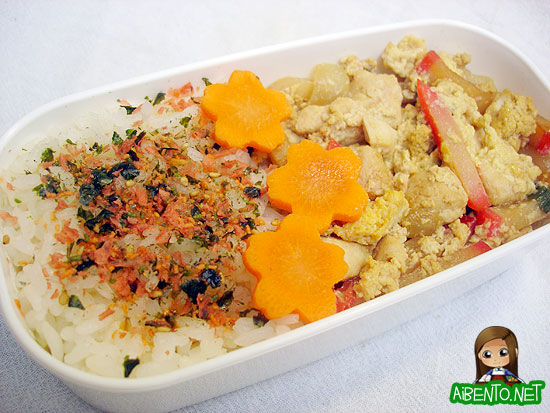 Bottom dish contains some ahi shoyu poke from Foodland, shelled edamame, and some won bok kim chee.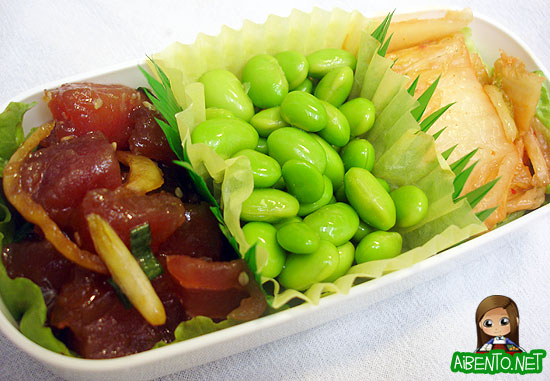 I'd made miso soup to take for lunch too, but then we started watching Lost and by the time I remembered the soup it had been reduced to goo and had been sitting out too long and I didn't want to risk eating spoiled soup. Fruits are mango and strawberry.
My throat still hurts. In fact, it feels worse. The cotton feeling is gone and instead I feel like I have a marble going down my throat everytime I swallow. *sob* 3 Points meal. 2 for the rice and 1 for the kamaboko.