Hello Kitty Onigiri Bento
I joined a LiveJournal community called bentochallenge where they post weekly themes and you have a week to post entries for it. This week's theme is Red and I've been wanting to do something for it all week. I finally had the time and plan for it last night! I hope to do another one tomorrow for Baby Girl in the shape of Elmo. (still brainstorming all the details)
This was the first time I was able to use my Hello Kitty onigiri mold and I'm pretty happy with the result, though I'm not sure why the mold has little indentations for the eyes and bow and stuff cause there's no way it would show on the rice. Maybe this is an ice cream mold and I'm just a total dork. Here she is: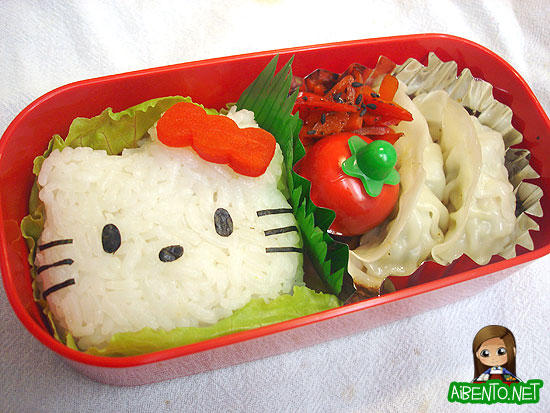 I have no shame in asking for showers of praise for this entry because I had to cut all those little nori whiskers, eyes, and nose by hand with a scissors and then apply them with a pair of tweezers! Feel free to hand out ooohs and aaahs for that red pepper ribbon too cause it took me (I swear) 15 minutes to cut with a knife. D: Miss Kitty has ume (more red) in the middle.
Also included are two pieces of Ajinomoto brand pork gyoza, which are basically little dumplings of heaven. They cost 1 WW point each, so that's why I only packed two. Next to it is some finely chopped bell pepper fried in the leftover juices of the gyoza (which doesn't require oil to fry, just water). I added a tomato shaped soy sauce container for the gyoza.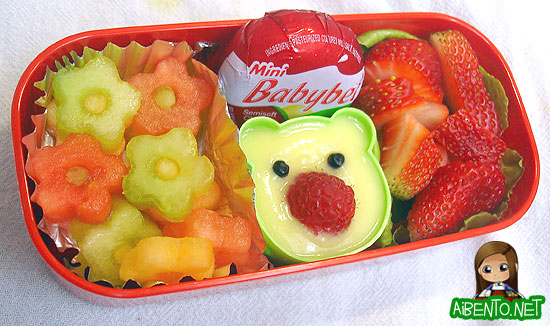 The bottom layer was quite the adventure to make as well. I bought a section of watermelon at Safeway and finally cut up that tuscan melon I bought at Costco. As I expected, the tuscan tastes wonderful! Anyway, I still had some galia melon, so I cut out flowers from all three melons then carved out a little center from each one with a plain ole drinking straw and exchanged the centers with other colors! Inside the bear cup is some fat free, sugar free instant pudding with a raspberry nose and blackberry eyes. Added the Babybel and strawberries for more red. I had to rearrange the strawberries and cheese to close it up, but it didn't look much different.
Here's the lunch all packed up and my miso soup in a red soup Tupperware to make my red meal complete. (and to help fill up my tummy)
This is a pretty naughty lunch. The gyoza are 2 points, the onigiri 1 point, the Babybel 2 points for a total of 4 points for lunch. But this should be ok since yesterday I had a relatively low points day. I may end up skipping the cheese though, as eating them again and again doesn't seem to change the fact that they don't taste too good. 🙁
This bento was made using Bento Box #29 – Red Urara 2-Tier. Click
here
to view bentos made using this box.