Witch Bento (141)
Last night I had a whole lot of stuff to do and so when I laid down with the kiddos to put them to sleep, I told Mr. Pikko that I *had* to get up again to work on that stuff, so he *had* to wake me up. I distinctly remember him eventually resorting to kicking me and I never did wake up, so I must have been dead tired. It all worked out though as when I woke up to set my alarm, I set it for 4:00 am, but I ended up waking up earlier than that anyway. This actually turned out really well for me and I think I may end up doing that whenever I fall asleep early. It gives me a ton of time to work on things.
All that time still didn't help us leave early though. I had so much crap to load up into the van this morning that I made no less than 6 trips to the car. I baked cupcakes for Baby Girl to take to her Halloween party today. I had white frosting that I divided into three bowls and then dyed it with food coloring to make purple, green, and orange frosting. I was quite happy with them and Baby Girl asked me 50 times whether she could eat them before we got to school and then Mr. Pikko pulls out this note from her backpack. It was from the teacher, asking parents to please tell her what they're bringing because last year they ended up with a TON of cupcakes. So I was like, damn it!! Oh well. 🙁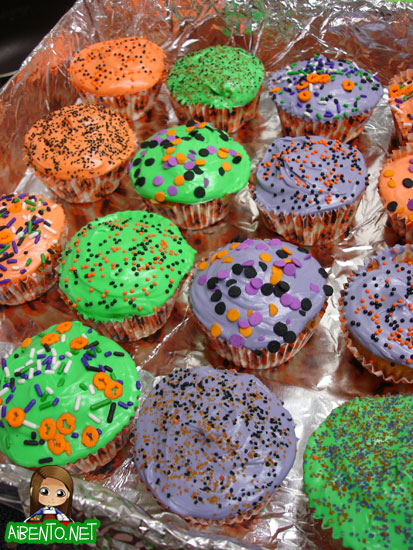 I suspect my daughter has a little child crush on a boy in her class. She's been telling us that her favorite boy at school is Ryan. One day when we picked her up, the two of them were sitting together on the floor outside their classroom. Yesterday on the way to school she told us that "Ryan is going to be Thomas the Train for Halloween." I asked her if she told him what she was going to be and she said, "No…" so I asked if she talks to him at all and she said, "Not yet." lol! They sat together at the Halloween program. lolol! This morning when I showed her the cupcakes, the first thing she blurted out was, "Can I give one to Ryan?" lololol! It cracks me up!!
She sits next to a different boy in class and one day when she went into the room, I saw him pull out her chair for her to sit down. I thought it was so adorable so I asked her about it and she goes, "He shouldn't have touched it, that's MY chair!" O. M. G. Women's lib starting in preschool, hahaha!!
Ok anyway, my bento. I still had a lot of fried rice left, so I used it as "dirt" for a carrot pumpkin patch and also as a bed for my witch. I had intended to chop the chicken up into bite size pieces for easy eating but then when I nuked it and took it out, it looked like a face, so I sliced off the excess and used it as a witch face. The hat is made out of baked Okinawan sweet potato and a slice of cheese makes the ribbon on it. The eyes and mouth are made out of swiss cheese and nori. I couldn't figure out how to make her a nose, so let's just say she looks pissed because someone stole it or something.
This is a very high points bento because of the rice, so I probably won't eat all of it. With the chicken being fried in vegetable oil and not olive, I can't just pass that off either, so I'll have to estimate this bento at maybe 8 points. D:
It was pouring this morning. How lame is that? Raining in Hawaii on Halloween. Boo!