Chicken Lettuce Wraps Bento (159)
We ate Costco chicken for lunch on Saturday so I used up some of the leftovers in today's bento. I chopped up the thigh meat into small pieces and added a tablespoon of light mayo to make it stick together then wrapped scoops of this mixture into romaine lettuce leaves. These leaves were pretty awesome for making what look like temaki sushi rolls. I ripped the stem out until about halfway, put the chicken mixture into the cup area at the top of the leaves, then wrapped the two strips of leaf at the bottom around to make this nice shape!
I fit three in very nicely and added a wedge of Laughing Cow Light Swiss cheese plus some carrot sticks for a side and color. My bottom tier didn't look so great so I didn't post the photo. I have peeled tangerine slices and some fat free chocolate pudding. Mmm!!
Yesterday, we finally got off our asses to go take the kiddies Christmas tree shopping. I figured Walmart was a good place to start since they always seem to have the short little trees we want, so we headed out to the Mililani one because if they had none, City Mill and Star Market are right there.
All three stores had no trees left! We headed back onto the freeway with Baby Girl asking us every 15 seconds why we didn't buy a tree yet and whether we thought the trees on the side of the road were nice. By the time we got to Home Depot I was ready to claw my eyes out at her non-stop questioning. Oh wait, I mean, my daughter is the most wonderfulest little person in the whole world!
We could see buttloads of trees in the back but there was a chain on the gate, so we went into the store and come to find out Home Depot's tree lot, which is open from 8 am to 8 pm, closed at 4 pm for a Christmas party. ON SUNDAY. There were at least 4 other customers with us in shock that they'd be this dumb. I hope Home Depot eats all their trees. Yeah, I'm bitter and full of scorn, so sue me.
We went to the Pearl City Walmart nearby, but they had no short trees either, so we went all the way to Waikele to Lowes where we found out that they had only 6-7 foot trees left but they were all 50% off! Woohoo! That's my kinda tree price! We chose a nice grand fir tree and had the guy cut all the love handles off to leave us with a nice 5 foot tree for $20. YaY!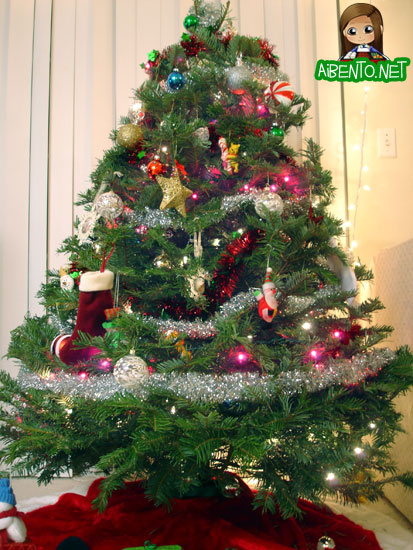 Buddy was driving me insane, picking off all the glass balls and throwing them like fast balls into the middle of the tree, then picking them up as they fell out and throwing them again. On the bright side, he's got quite the throwing arm! I had to put each ornament on like 5 times, but eventually it got done. I tried to get them to take our Christmas photo but just couldn't get it done. I even busted out the puffs and that didn't work, so I'll have to try again another day. D: