Hello Kitty Bento (234)
The fun bento stuff I mentioned the last week finally arrived and I was very amused to see the description on the box on the customs form: "toys". Toys is right! I felt like a kid on Christmas morning! I decided I had to use them today to make a Hello Kitty themed bento!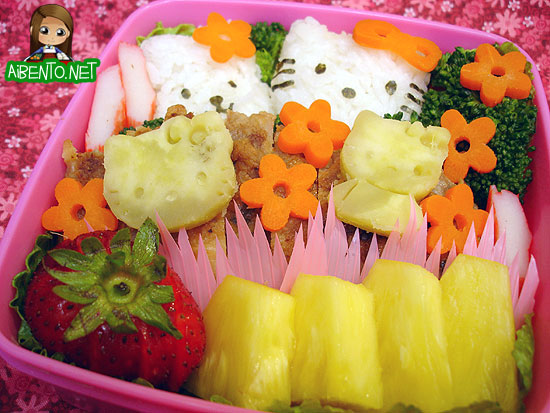 At the top I have a bunny and Hello Kitty onigiri. The nori was cut out with a punch. I was sad to see these punches were made of plastic as they were hard to punch and kept getting stuck. I had to keep tapping it with a butter knife to get the thing to snap back. But still, it's great!! The set came with some adorable veggie cutters.
Obviously I'm in love with the flower cutter. Kitty and Bunny are surrounded by broccoli, imitation crab, and mochiko chicken. Here is a close-up shot: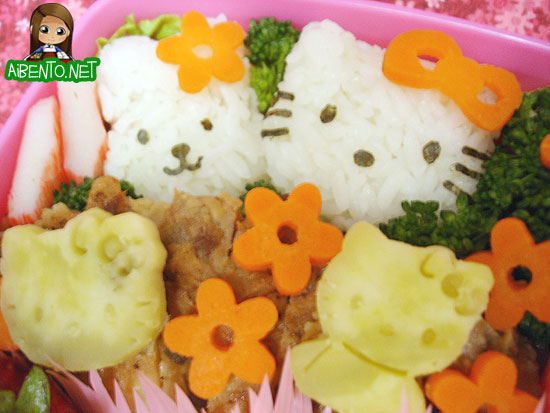 On top the mochiko chicken I have slices of baked sweet potato cut with my new Hello Kitty veggie cutters. Adorable!! I added pineapple and a strawberry and separated it with some pink sushi grass.
This is packed in a Hello Kitty box and as if that wasn't enough Kitty for me, I have Hello Kitty and Bunny cookies I made last night. On Monday I was showing my niece pictures from my Flickr and she saw the cookies I made for Baby Girl. Ever since then every day I get this ear to ear grin, "Aunty Crystal! Aunty Crystal! Did you make more Hello Kitty cookies????" I finally told her yesterday that I'd back them tonight. I made so many that I brought them to work so that people could help eat them down to a manageable amount. It will be nice to see her reaction tonight. ^_^