Cornflake Chicken Bento (275)
I had a conference at the Ala Moana hotel on Monday, which was why I didn't post anything. I was too busy stuffing my face with little citrus cream cheese pastries and Steak Diane, steamed fish, and watermelon. I ate a TON of watermelon and more cream cheese bites than I care to admit. The food was good, the assembly was okay, and I dug out right when it was over to go get my hair cut. Getting time to have my hair cut is a rare occasion lately, so I had to take advantage while I could!
On Tuesday I made myself some California roll, but after I'd cooked the rice, added the sushi seasoning, and cut the avocado, I realized I was out of cucumber. I was mega pissed. I tried to substitute with radish sprouts, but ended up rolling the darn thing too loosely because sprouts really don't fill very well. I cut it anyway and then went to take the picture and much to my dismay, I was having difficulties with my camera again. I was so frustrated with the camera AND my horrible roll I didn't want to post the picture. I was trying to recreate a prior bento (which will appear on the cover of the upcoming book 500 Bento Lunches) and with no cucumbers, pitiful subs, a finicky camera, and two toddlers who make like I don't exist, I was ready to asplode out my ears. I've calmed down now, so here is the picture, assisted with a light touch of Picasa.
I have to admit, I still think this picture is crap. I reeeally need to finish reading the manual…
Wednesday I had spaghetti, which isn't all that easy to bento. I had more camera problems since there was red and orange and yellow in it, so once again I was really crabby and didn't really want to post anything.
I used one of my food cutter wheels for the flowers. It wasn't very original, so I don't expect to get any shrieks over it or anything. I used whole wheat pasta and added a little sprig of parsley for color. Tasted awesome! I brought persimmons in my bottom layer.
I had a bit more time to fool with all the settings on the camera this morning, so the results were a lot better than my last two days. Either that or not having much orange and red helped. We'll see.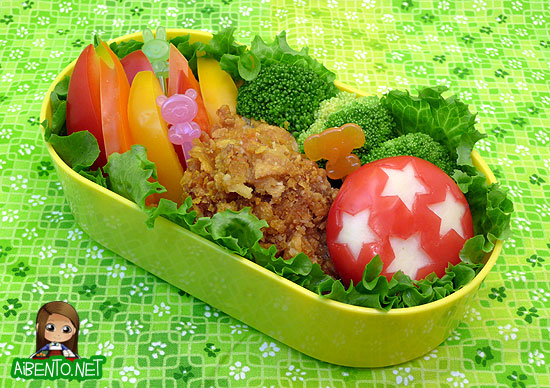 I was in the middle of eating this piece of chicken last night for dinner, thinking to myself that I really shouldn't finish it because I was filled up on chicken soup Grandma J made when the lights when out. This meant that the leftovers were now my lunch and the power company saved me from stuffing myself.
I bought a bottle of Pietro's (a local restaurant) salad dressing at Marukai last night, so I'll eat the bell peppers with that. I just brought the whole bottle to work, so I didn't need to use a little sauce bottle. I got the Sesame and Miso one because the Shoyu dressing was all sold out. *sob* To round things out I have a mini Babybel cheese wheel with stars cut into them with a knife. I had thought I'd be able to cut it with the food wheels, but the wax was too thick, so I pressed it in to make the lines and then traced it out with a knife.
Tomorrow there will be the first ever UFC Pep Rally at the Blaisdell and we're planning to go to that. I'm really excited because Dana White, BJ Penn, and Georges St. Pierre are all going to be there! This will be my first ever UFC event and I'm hoping to get some good pictures and who knows, maybe I'll get super lucky and get autographs and pictures!