Onigiri Brigade (Bento 371)
Someone commented yesterday to say that my plant looks like radish seed pods, so I looked it up and the flowers matched and the pods look the same. I went outside to check again and sure enough, there's a pathetically skinny looking daikon under the dirt now. Apparently people like to eat radish seed pods, so I'll have to see if I'm brave enough to do that!
We ate Chinese food for dinner last night, so I've got some leftover minute chicken along with a brigade of little triangle onigiri, made with a Petit onigiri mold. The box I'm using is a new one that I saw recently on J-List, the Strawberry Mix box. You'll have to go to J-List to see the cover, which is adorable!
I rarely see boxes of such a slender shape, so I was curious to see how big it was. It's about 6 1/2″ x 2 1/2″ and the inside gives you just a little over an inch for food before you start smashing down all your hard work. These little onigiri were the perfect height! I tucked little pieces of steamed broccoli in between their little valleys and then put the minute chicken in the remaining space. The box comes with a pink strap.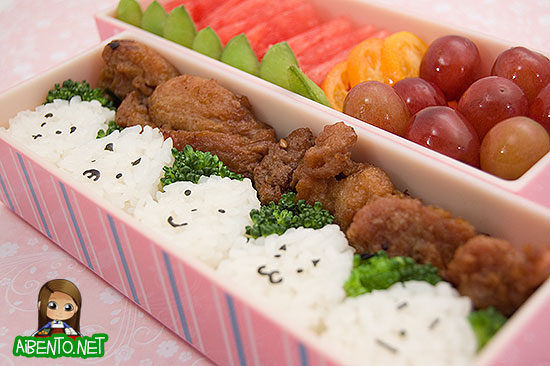 For the other layer, I added the sliced watermelon first. I'm SO glad watermelon season is coming around and I can't wait for a sale or something. I'm pretty sick of buying 5 dollar mini watermelons. 🙁 Next, I sliced up a kumquat and put the ends on the bottom, propping three slices on top of those. There was a little space next to the watermelon because I miscalcuated my cuts, so I laid some edamame pods in. Last of all, I added grapes, washed and off the stem.
The nori faces were cut with my little mini punches from I Love Obento. I'll have to buy the panda and bunny as I'm missing those!
We had another miracle fruit party last night for Mr. Pikko's uncle and aunty who were visiting from Vegas. This time I cut everything up very nicely and laid it out all fancy schmancy. The last time, the lemons and limes were my favorite, but I guess this time I rushed coating my tongue and they weren't as good this time. 🙁 I was so so bummed. Still, the strawberries and kiwi tasted fabulous.
We also tried sour cream and we all agreed it tasted like a sweet cheese. Then Baby Girl came by, tried some, then said it tasted like cheese. Since she hadn't been around when we said it tasted like cheese and she hadn't had a miracle frootie, we thought maybe it just didn't work for the sour cream and none of us really knew what it tasted like on its own.
In other miracle berry news, Mr. Pikko's bushes are growing too slow for his interest, which is really sad because they have so many berries that look dead now. 🙁