Sesame Choy Sum Recipe
Earlier this week we offered to bring home takeout food and Korean sounded like a good idea, so I suggested we eat at Kim Chee 7, which is located at Westridge. Kim Chee 2 was the first Korean place that Mr. Pikko ever took me to eat meat jun at. Since I'd never had it, he wanted me to try a good place before taking me to the best place for meat jun, which is a hole in the wall place called Yakiniku Million. Ever since that dinner date long ago, I've had a serious food love affair with their barbeque chicken.
I've blogged about eating here before and if you go back and read, you can see that I truly glow about the place. That was until I went in to pay for three plate lunches and came out with $50 charged to my credit card. At first I thought there was some mistake, but it turns out that their kalbi plate, which could easily feed two or three, costs a whopping $21.95. I thought for sure it was a family platter, but no. I looked at the menu and sure enough, that's the cost. Mr. Pikko's meat jun was a staggering $11 and my shrimp tempura/chicken combo was $14.50. It pains me to say that I feel like I can no longer afford to eat at my favorite Korean restaurant. At least, not for any ordinary day. From now on I'll have to stick to Gina's or the mini size at Yummy's.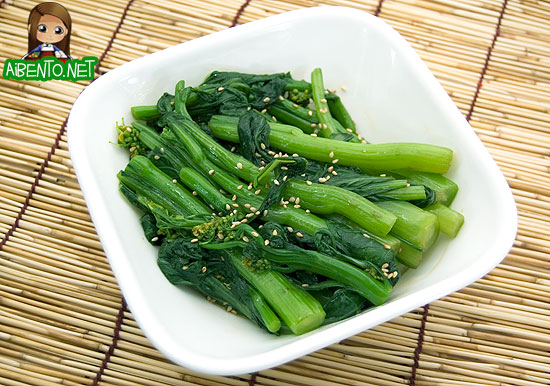 This brings me to my favorite veggie dish at Gina's and Yummy's, sesame choy sum. I saw a nice, fresh batch at Foodland the other day and bought it to try to make for dinner. I ended up just throwing things in and the result was so yummy that I felt it deserved to be shared with you all.
Granted, it doesn't taste as good as theirs, but that wasn't really the point. I just wanted this wonderful veggie to taste good and look great in a bento. Mission accomplished! (though you won't see it in action until tomorrow)
Sesame Choy Sum
Ingredients
1 bunch fresh choy sum
2 tbsp oyster sauce
1 tbsp sesame oil
1 tbsp dark soy sauce
1/2 tbsp sesame seeds (optional)
Instructions
Wash the choy sum and trim the bottom.
Bring a pot of water to boil and add the choy sum. Since the stems take longer to cook than the leaves, I actually cut the stems in half and added that to the pot first. About a minute or two later, I added the leaf sections.
Boil the choy sum for about 3-4 minutes, then remove and drain well. Let cool for 5-10 minutes.
Run cool water over the choy sum and squeeze out excess water. Place in a large bowl and add the sauces and oil. Mix well.
Add sesame seeds and toss to combine. Let soak for 10 minutes.
To serve, squeeze excess sauce, plate, then drizzle sauce on top. Sprinkle more sesame seeds on top.
The soy sauce I used was Yamasa and this was just the right taste of soy sauce I was looking for. If you have it available, try to use that one. I'll be cutting it into smaller pieces to add to my bentos.
For dinner, I made an alternate version of my mother's Oyako Donburi recipe. Since my family gives me loud "YECH!"s whenever I try to add green onions, I had to try to use something else to add color to the dish. Since I had asparagus leftover, I sliced it up and added it to the pan after the egg was cooked. It tasted yummy!
My niece had a bento project for her Japanese class and yesterday was the day that they finally executed all of their carefully laid out plans. Take a look at the final result of her and her partner's efforts!
They went with an Easter theme, making chicken soboro on the bottom and Healthy Rice on the top. They decorated it with a boiled egg sun, kamaboko bunnies, a cheese chick, a bamboo shoot fence, and carrot flowers. She asked me if she could borrow a nori punch for a chick and I took that over, but then I felt terrible because they ended up cutting the flowers and bunny potatoes all by hand. All my cutters were sitting at home. Some bento maven aunty I am!!
Still, it looks great, doesn't it? <3
Now for some Bento Hoodlum catching up…
Here's Kamaboko lounging around under an umbrella at Gyotaku Napkin Beach. She's having a nice time relaxing, but one has to wonder how the heck she knows when she's getting sunburnt.
Before we left, she wanted to get a picture with Cookie Monster. I tried to get her to ask for an autograph, but I think she was star struck.
After this we went to grab dessert.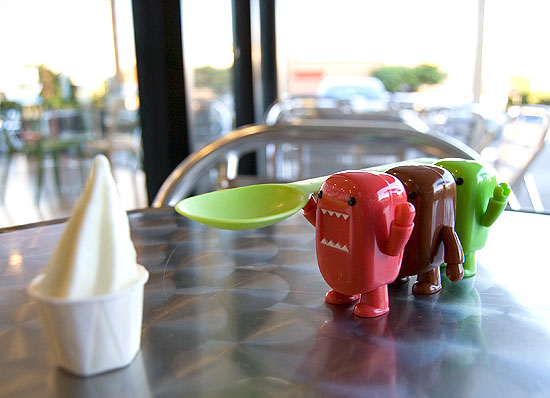 Hi ho! Hi ho! It's off to yogurt we go!
I got them a little sample cup of the new Yuzu Tart flavor. They charged right in!