2010 Halloween Wrap-Up
Halloween is one of my favorite holidays for some reason. It's not because of the candy, but more because I can remember a lot of happy memories during Halloween while growing up, so I want my kids to have the same. Plus, ever since I found out about more complex pumpkin carvings, that's become something I have to do in increasingly excessive amounts every year. Last year, I spent 8 hours carving a pumpkin of the Star Sibyl. This year, I went for quantity and carved a whopping five pumpkins. Or rather, four, but one had two designs.
I also made these jack-o-lantern spam musubis! I used my Quickutz pumpkin to cut the shape out of the nori on Saturday, then saved the inner portions for tacking on. I used the same technique as my LOST musubis.
Here's the nori with the pumpkin shape cut out. I guess it would have been fine as-is, but jack-o-lantern musubis are cuter.
I dyed the rice with 4 drops red and 2 drops yellow and this was in no way enough color. Next time I do this I'm definitely doubling it. You could probably also cook the rice with carrot juice, but I wasn't sure how carroty it would make the rice taste and didn't want to waste the spam. It would definitely come out a brighter orange.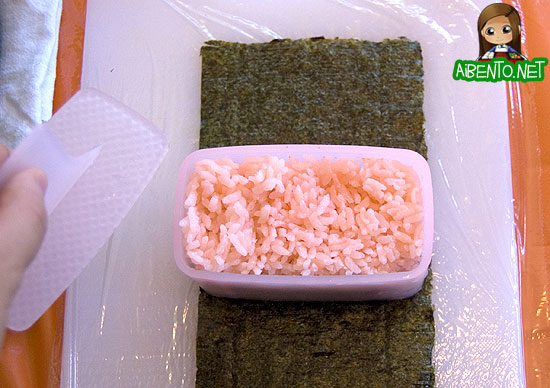 Here's the inner cut-outs. I still have the nori pumpkins, but I'm not sure what to do with them.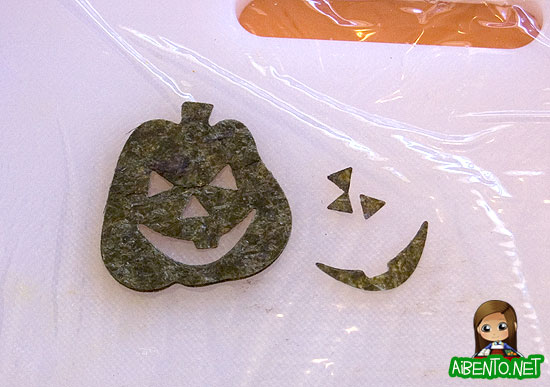 Here's the finished one after I'd turned it over to place the face on. The first one looked almost pink, so I tried adding more drops to the rice and that turned out badly, so don't try to add more color after the fact unless you dilute with water.
I'd seen some really snazzy looking caramel apples on Foodgawker from The Yummy Life and so I wanted to have a go at it, even though it involved melting chocolate. To those unfamiliar with my baking history, I am a professional chocolate ruiner. If that's not proof enough, there's my truffle affair.
I figured, hey, I have a double boiler now. What can go wrong?
Hahaha!
I started off stabbing my apples with really thick lollipop sticks because I couldn't find popsicle sticks at four different stores. I ended up shoving a chopstick in first to clear the way for the stick. This helped a lot.
I had the kids unwrap the caramels since that took forever and then I dipped the apples in it and then rolled in some macadamia nuts. I used up the nuts extremely fast, so I had to go to my Plan B earlier than expected and crush a bunch of Golden Oreos.
Right around here, I started melting the chocolate and it was taking too long, so I set the water a bit higher to medium and it began boiling. Apparently you can burn chocolate in a double boiler too, so soon after it melted halfway, it began to harden up. Me being the stubborn ass I always am with this kind of thing, I shoved all the chocolate into the condiment bottles anyway, figuring I could just squeeze that damn stuff out.
The first few turned out really nice and I was able to draw chocolate petals on the first batch. Later, however, it really started to get bad. The white was particularly clumpy and I was using all of my upper body strength (haha…) to squeeze an inch of white chocolate out. Eventually I gave up on petals and just flung it around like a mad woman. The dang cookies and nuts kept oozing down the sides of the apples, too. That's definitely due to living in a hot climate. My apples didn't "chill" very well outside the fridge.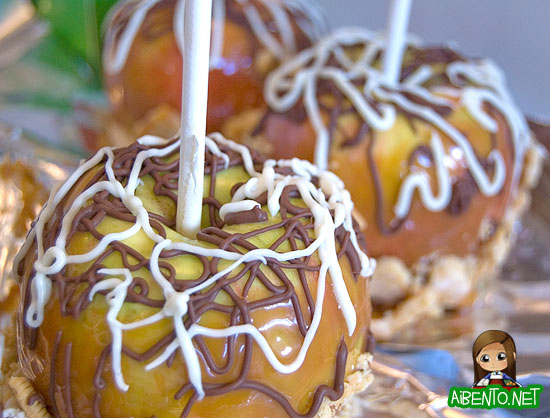 It looked nice anyway, but I would have preferred the petal design. After yanking out all my hair, squeezing until my arms shook, and screaming at the chocolate bottles, I finally got them all decorated and put them in the fridge to cool.
I realized at the very start of all this that I had somehow overlooked the fact that I didn't have any wax paper or parchment paper. I ended up using foil, which was a pain in the ass, but worked. I cut some orange tissue paper and lined the bottom of the bags and placed a square of foil on top, then tied the bags up with golden ribbons. Here's my first batch with the nicer chocolate designs.
Here's the second batch. Boy are these things hella messy to make. Still, they do taste really good. I don't think I'd eaten a caramel apple before and I really liked it. Enough where I ate a whole one for dessert on Saturday. Oops!
Now on to the pumpkins!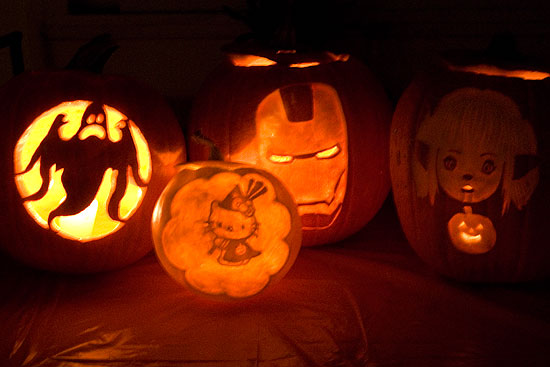 This picture only shows four designs because the last one is on the side of the ghost. Mr. Pikko's pumpkin was rotten on the inside, so I had to scrap it. It was pretty freaking disgusting inside.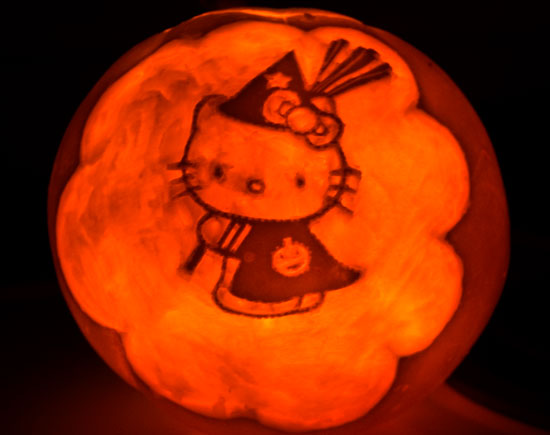 This was my first carving, which I did on a white pumpkin. White pumpkins are a lot easier to carve than orange, let me tell you. Baby Girl saw this little Hello Kitty witch photo while I was trying to find a Hello Kitty vampire one and she insisted this be hers. It wasn't all that hard to do.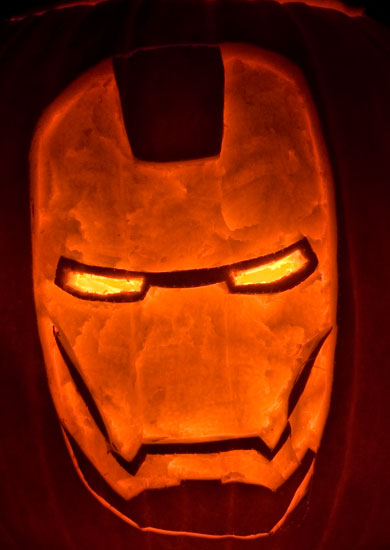 Next up was Buddy's pumpkin, which was Iron Man, of course. This one was pretty easy too.
This one was sort of an inside joke for the "Scaaaarreeeeee Ghooooooost!" bit Buddy kept doing all week. He says he learned it at school. I have a video of him doing it on my phone, but I can't seem to get the dang thing off to send to family!
I made this one for Mr. Pikko as a surprise. I carved it in secret and when I showed it to him in the light, he had no clue what it was. I told him he'd be able to tell in the dark, so I went to take a photo and then he understood and he thought it was really cool. It's the Dream King, Morpheus, from Neil Gaiman's Sandman comics. I'd wanted to do Death, but couldn't find a good image. Next year!
Last of all was my FFXIV Lalafell pumpkin, who I didn't finish until the kids had already gone to bed. I printed a picture from the fan site kit and had wanted to carve her with her hands holding the pumpkin, but her fingers were too hard to do. Her hair took me like an hour.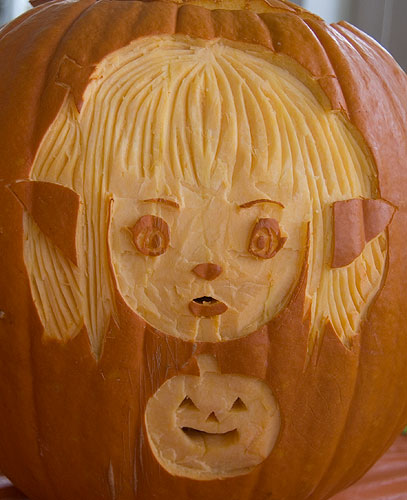 Here she is in the light. Her eyes are lopsided, which I hate, but it's better than I would have expected. I suck at eyes.
Trick or treating was pretty funny. Two neighborhood kids that play with Buddy and Baby Girl asked if I could take them around. At 5 PM.
I kept telling them, no one gives out candy that early. At least, not in Hawaii. They moved here from the mainland, which I'm guessing does trick or treating in the day. Here we still go out at night and if no porch light is on, no candy is to be had. In the end, I finally convinced them that waiting til dark was better.
Our neighborhood is kind of old, so we didn't get much luck. I ended up driving them up to Manoa to trick or treat up one small street and that was a huge difference. Normally I'd frown upon driving to another neighborhood, but we live pretty close and it didn't seem like much fun for the kids to have only a handful of houses to trick or treat at. Plus, I had four little kids. If I had teens or tweens I'd just send them to the mall.
The neighbors had asked if they could take my kids to trick or treat in Waikiki and I looked at them like they had three heads. I told them that's where adults go to trick or treat. I left out the part about how that's where crazy and drunk adults go for Halloween, probably to pick up tricks for treats. If you know what I'm sayin'.
By the time we left to go to Manoa, Buddy was totally over trick or treating. He'd ripped off his Iron Man suit and put on regular clothes. He tried to leave his mask behind, even though I kept giving it to him. He refused to trick or treat until he heard someone was giving Play-Doh, then he went up to get some. Just like last year, after he was over it, all he wanted to do was go exploring people's yards with a flashlight. When we were almost done, he started the whining, saying trick or treating was "one hundred bo-ring". LOL!
It's a good thing though, he's not much of a sweets kind of guy all the time. Unlike Baby Girl who has taken to sneaking packs of M&Ms to eat in secret in her closet. She's not too good at hiding it though, since she just leaves the wrappers where she ate them. Tsk tsk!