Teriyaki Beef Bento
Yesterday, Mr. Pikko and I celebrated our 8th anniversary by going to the usual place, Ruth's Chris. In the past, they've given us a free bread pudding to help us celebrate and frankly, we hate bread pudding. So imagine our surprise when we arrived at a table sprinkled with rose petals, sat down to some free champagne, received some vanilla ice cream, and then a fancy pants mini cupcake dessert in a glass tube filled with more rose petals. We were told happy anniversary by at least six different staff members.
The really strange part of it all was being charged $1.98 for ice cream we never asked for, but who cares about that when they give you a $25 gift certificate as you leave and fully validate your parking. Not us! Plus, ice cream there is probably like $10 or more. I don't know if it's new management or a slew of bread pudding complaints, but that was certainly a very memorable and different dinner experience from past years. Two very big thumbs up!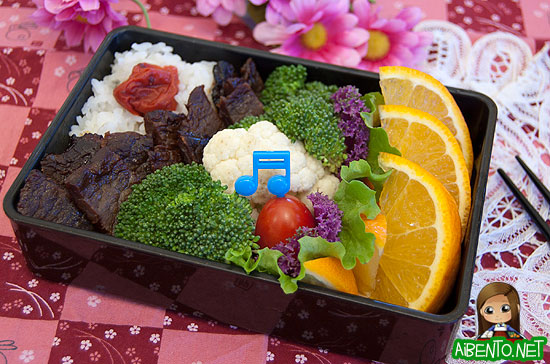 Bit of a lazy lunch today. I'd cooked the beef yesterday afternoon because I figured I'd be too lazy to cook that night. It's lucky for me I know myself so well.
First to go in was the rice, then I put in the cut slices of beef, which I did using a kitchen scissors. Broccoli and cauliflower went in next, along with some lettuce and kale to separate it from the oranges. I put the tomato in next, but I'm not sure why I chose a blue food pick. It seems to random and sticks out like a sore thumb. 🙁
Last to go in was the ume.
Total: 9 points
Snacks for today: 2 bananas, nori, 2 kiwis, karikari ume
Weight this morning: 152.5 lb
Yes, that's right! I stayed on points while eating out last night and still managed to lose a minuscule amount of weight. I included everything from the champagne to the filet mignon to the dessert and still did well for the day. Yesterday's low point bento and power food splurge did the job! ^_^