Egg Salad Sammies Bento
Now that I'm a good full week into biking, I'm starting to feel a certain spark of confidence build up around getting myself to work on something faster than my two feet. I don't feel quite as stupid with the Wall-E backpack and it's nice feeling like I'm probably losing inches around my lifetime buddies, the Thunder Thigh Twins. I should probably have measured my thighs at the start, but I'm not sure where I put my little sewing kit measuring tape.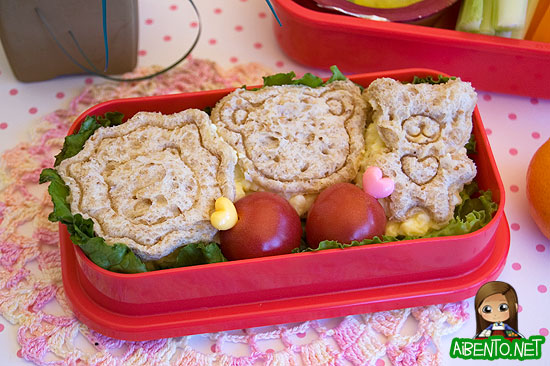 As many of you know, I own a disgusting amount of bento boxes. I also own a ridiculous amount of bento accessories that I acquired back when bento accessories were actually cheap. Now when I go to Marukai it's much easier to resist the urge to buy because things are like 2-3x pricier than they were, say, a year ago.
That being said, I decided to use some of my many sandwich cutters. I used a lion, a bear, and a teddy bear. I had cut out the faces to place on top, but then when I tried to microwave them, went a little too far and they melted all over the place. I ended up just pressing them like normal and filled them with egg salad.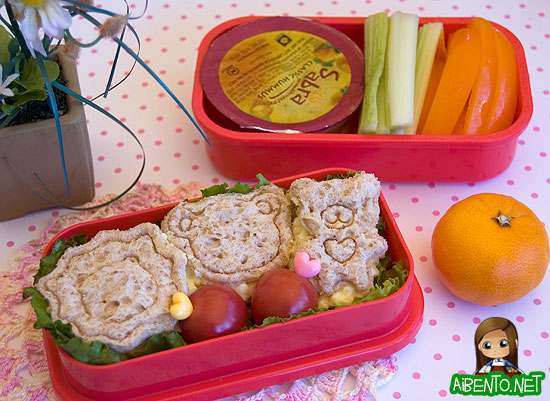 In front, I put two of these pink tomatoes that have been growing wild in the back yard. I say they're pink because when ripe, they have this off red look. It's difficult to see in the photo because of the red box and lighting, but hopefully when more ripen I can take a picture outside to show you guys. They taste pretty good!
In the second tier I put some bell pepper slices, celery sticks, and a baby tub of hummus.
Egg Salad Sammies Bento Points Calculation
Total: 10 points
Snacks: 4 cigar mangoes
Weight: 147.7 lbs
More loss today! I combined today's lunch with breakfast by eating the leftover bread outsides for breakfast with some peanut butter and the egg salad that I couldn't fit into the sammies. From looking at my daily food intake, I'm always coming up short on my daily calcium. I'm going to have to make it a point to either put more cheese into my bentos or always make room for milk in the morning. I wish fat free milk didn't cost points. 🙁