Mini Teri Beef Bento for Buddy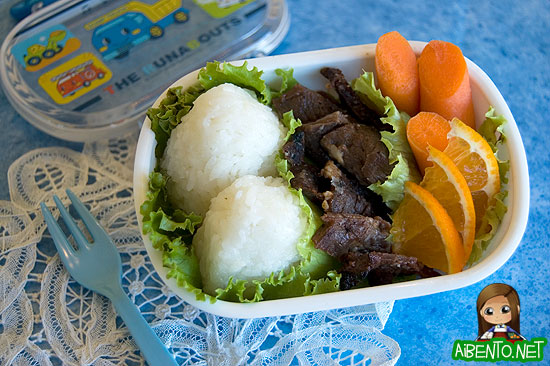 On Sunday, we invited Mr. Pikko's parents over for dinner so we could have some of our fish and rabbit, since they were getting past their prime. They brought some marinated beef to supplement it and so I cut up some leftovers for Buddy's lunch on Monday. I made him two cute little onigiri, cut the teri beef into bite-size strips, and added carrots and some half slices from my breakfast tangelo (my FAVORITE citrus). Everything is separated by lettuce leaves about at the end of their life. I washed off all the mushy party and they made great dividers for a boy who wouldn't eat it anyway.
I was pretty proud I made this one so fast but was really pissed when what I got back was a plastic lunch bag full of stray fatty pieces of beef and half an onigiri soaked in water. AND my bento box was broken. Turns out he stored his water bottle in the lunch bag and then proceeded to throw the bag in the air like it was some game. This jarred the cap loose, making the water leak. During one of the slams onto the ground, a handle on the box snapped off (as in broken, not came loose) and the food spilled out. Then it stewed like that for a few hours until he came home.
Boy did he get a talking to. I told him if he wanted home lunch ever again, he better not treat his lunch bag, bottle, and bento box like a ball to toss around. It seems to have worked too because he hasn't broken any the rest of the week. Now a new problem seems to be him forgetting to bring the bag home. Ugh. Leftover lunch simmering in school all day. Just what I want to greet me at the end of the day.