Korean BBQ Leftovers Bento
You kind of know you've become woefully behind in your bento blogging when you find a photo of a bento that you made six months ago but never posted. Nothing too fascinating about this one other than the fact that the food tastes amazing. I packed this back in October 2011 when we ate Korean takeout. The weird part is, I can't really place where this is from. Normally I can tell, but the fact that there's kim chee, which I never order on my own, makes me unsure. My best guess is Gina's.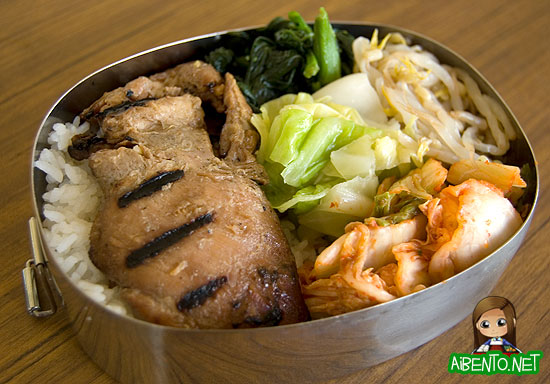 I wish Korean places would sell bentos more often. Gina's BBQ at Market City sells a mini bento, but it's just a plastic container so stuffed full of food that calling it a bento is stretching it a bit. It's more like a small plate lunch. But since they put so much emphasis in their veggie sides, I think it'd make for such a great lunch item. So many BBQ plate lunches are just crammed to the brim with food that I can split one with my two kids and be full. The lady at Gina's who usually puts the veggies into the plates is so skilled with her tongs that I'm pretty sure she'd be amazing at packing a nice, neat bento like this.
About a month ago I had to run an errand down at Ala Moana and I stopped into Shirokiya to buy lunch. They've always sold bentos up on the top floor but they recently cleared out their whole bento/kitchen section and now the whole top floor is dedicated to food and various bento shops. It's like a little Japan food court with like 20 different food options. It's crazy! And soooo busy!
I bought this "special" tonkatsu and waited while they made me a fresh one. I'd been eating light, so finally getting some fried food with delicious crispy outside was so amazing. Next time I go there I'll definitely take photos of the whole area because it's really not something you can put into words.
After ignoring it for about a year, I've decided to start putting work into Bento Central again. Sadly, I had to move the whole blog off my old host and in the transition, I had to move everyone's posts over to my account, so if you see an old post of yours there under "Pikko", it's because of that. If anyone is interested in helping me out, I have a small budget for one person to help me fill in content throughout the month. Email me if you have an interest in bento and want to work for Bento Central!