Making Mini Breakfast Mummies
Halloween is almost here and I've got a to-do list a mile long! I think I have to accept the fact that only about 80% of what I have planned will actually get done. I made a Halloween food plan, but have since added two extra dishes–guacamole with bat chips and haupia ghosts.
If I leave anything off, it'll be the ghosts and poisoned apples. I have to make the fondant today because cupcakes are on my must-do list since I bought these really cool spider web cupcake liners. I'm dying to use them!
Today's post features little mummies made out of Crescent dough.
Not exactly a new concept, but I put my own spin on it. I used Lil' Smokies for sausages and boiled them for just a minute or two to get them shaped a little rounder than when they come out of the package.
Start by cutting the dough into thin strips. You'll be pulling them tighter, so don't need to cut them super super thin and stress out.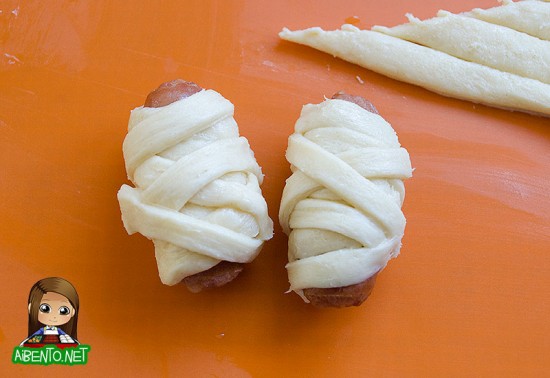 Pulling the strips until they're thinner and longer, carefully wrap your smokies. Bake for 9-10 minutes, or until lightly browned. I took them out right at 9 minutes and they browned a little more after they came out.
Have some punched nori ready, along with a toothpick for applying. You'll also need a bit of butter, especially if you're using reduced fat dough. Just lightly brush the tops where the faces will go. (I just used my finger.)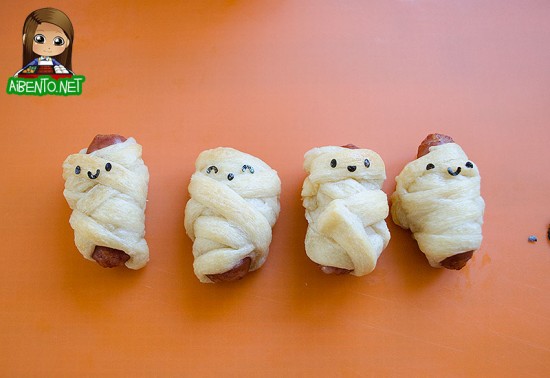 Then you simply add faces using a variety of expressions!
Since mornings are hectic, you might want to consider doing the wrapping the night before. The kids can help. Then in the morning you simply pop them in the oven and add the faces and you're done in less than 15 minutes. 🙂