Ramen at Home
My ramen eating habits have evolved over the years, starting with my family dubbing Sapporo Ichiban brand ramen as "saimin" and eating it almost daily for my entire childhood. Occasionally, my Oahu cousins would come to visit Grandma and I'd see them eating S&S Saimin, which was their noodle of choice. Sometimes I'd order the saimin at Satsuki in downtown Hilo when my parents took the whole Kodani Florist crew there to eat a late-night dinner. That was probably the closest I ever came to the "real" Japanese ramen that I have regular access to today.
Now that I live on Oahu, where ramen shops are everywhere, I've got this informal quality ranking system for ramen that goes from Sumo/Ezogiku to Menchanko Tei/Tenkaippin all the way up to Kiwami/Agu Ramen (which is basically as high class as you can get with house-made noodles, eggs cooked with crack, and to-die-for broth). Kiwami closed down (again!) some months back
All the yum at all these places aside, ramen is costly, especially when you have a family of four and a half. Add in gyoza and you're talking 40 bucks easy for the lowest "tier" of ramen, more if you're dining in. Agu, which is gourmet ramen, costs a cool 18 bucks a bowl at minimum. Amazing on occasion, but way too much to make it a habit.
So when I don't want to be slumming it with my go-to breakfast ramen (the previously mentioned Sapporo Ichiban) for dinner, I make ramen at home. To do this, you need fresh ramen noodles, preferably from Sun Noodle, which is probably the noodle most ramen shops use anyway, since I've seen Sun Noodle boxes at some ramen shops. It comes with soup base, so you really could just eat the soup and noodles and it'll taste amazing, but you can also fancy it up.
I went to Nijiya, which is a Japanese market, and bought the ramen, a small bag of choy sum, a pack of gyoza, kamaboko, and a nice slab of chasu pork. The kamaboko kind of scared me because the expiration date was March 2017, and any fish product that can last nine months has got to be terrible for you, right? Turns out, it tasted terrible anyway, and it was like chewing crunchy rubber. Next time I'll stick to Amano, which is my favorite brand of kamaboko (and made in Hilo!).
Here's a closer look at the ramen. The shoyu one is really delicious (though pretty salty in general), and Sun Noodle also has miso flavor. They used to sell big packs of these at Costco, but when I tried to buy one yesterday, they didn't have it. A lot of times I'll freeze these, and when you do that, you just have to either defrost the noodles or run them under water before dropping them in the water.
The first thing I did was boil five eggs. Then I got the choy sum ready.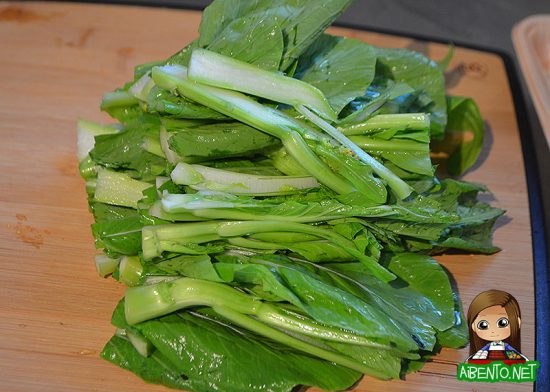 This is the choy sum, which I cut in half, then sliced the stalks in half length-wise. I just boiled it.
This is the chasu pork, which was SO GOOD. It was the first time I'd bought it at Nijiya, and it was totally worth it. I sliced it nice and thin while it was still cold and just set it to the side until I needed it.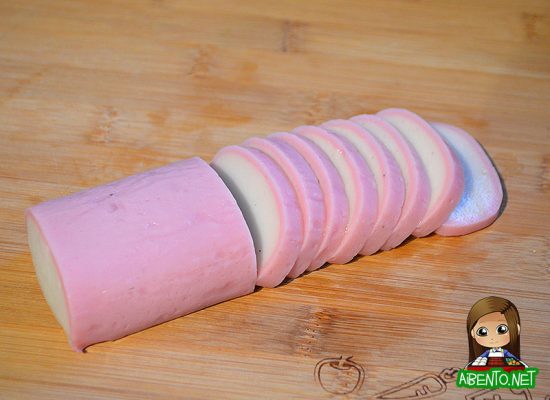 Here's my crunchy rubber. Ugh. Definitely not good. Even my son didn't want to eat it, and he's a kamaboko fiend.
Next, I peeled the boiled eggs, then soaked them in a mixture of soy sauce and memmi. I used Kikkoman because I wanted flavor fast. I'd looked up a recipe for marinated eggs and after I saw the 4-hour marinating time I was like, yeah, no. This turned out fine. I just turned them every once in a while so they'd get an even soaking.
Next I cooked the gyoza. I love these because you cook them without oil, just water and steam! I make the gyoza sauce by adding a bit of vinegar to soy sauce.
At this point I'm almost ready to start making the noodles!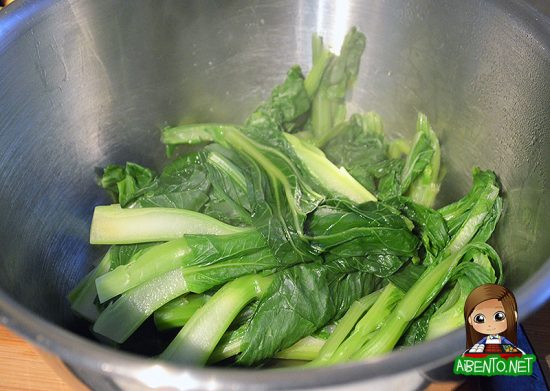 The boiled choy sum. Since my pot is now free again, I start a small pot of boiling water. I have to do one pot for each bowl of ramen, so unfortunately we don't get to eat together. I boil the water, add the noodles, then wait a minute or two. I empty the sauce packet into a ramen bowl, then pour hot liquid into the bowl to make the broth, then put the noodles in. I throw out the excess water and start a new pot for the next bowl.
By this time, the gyoza is about done. Mmm, nom nom!
In the end, once the ramen is done, I put three slices of chasu pork into the broth to warm up and soften, add some choy sum, a couple of kamaboko slices, and a shoyu egg sliced in half. Super yummy!
Ramen and gyoza for three and cold soba for one (for Buddy) came out to about $21, so definitely worth the effort to save myself 20$ dollars!