Salad Kit Bento
No bentos yesterday as I simply didn't have the time. At 9 am Baby Girl saw hubby watching "Mittsbusters" and since it involved a pool, she suddenly wanted to go swimming. It took us like an hour and a half to get ready and when we finally go there and get into the water the first thing out of her mouth was, "Ok, let's go home now." O_O
Poor Buddy had been completely heartbroken that we left him home (hubby can't go outside because of an eye infection) and so I let them play in the yard with the water pool while I pulled weeds. I am slowly but surely winning the war against those deeply rooted suckers! There's a whole 3′ x 2′ plot of gravel completely weed-free now! Before I knew it, it was 11:45 so I just defrosted some of the leftover turkey lasagna from Saturday night and they all ate that. I had some chicken salad.
For dinner I made Chinese style steamed fish and though it was the first time I'd done the sizzling peanut oil thing and the first time I'd used my fish poacher thing that had been hibernating on top of the fridge for two years, it turned out great! I'd planned on taking some for today's lunch, but the kids enjoyed the fish so much that they ate half a side of the fish by themselves! 😀 So after some thinking during Amazing Race (yay my team won!) and Sopranos I decided on what I'm calling a salad kit.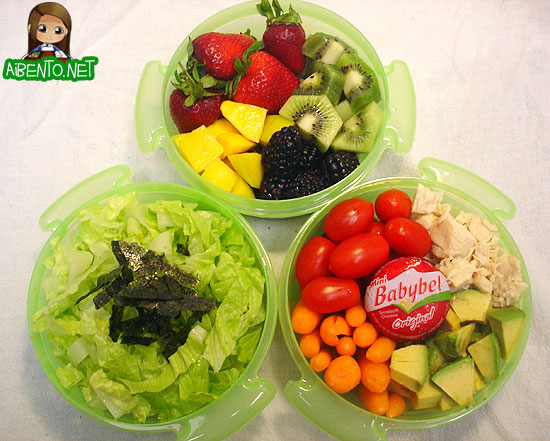 The lettuce bowl looked pretty zzZz so I put some momi nori on it. The back of the package says to put it on salad, so I'll see how that tastes. Seems wierd, but you never know! For toppings I went kinda nuts, adding chicken, tomatoes, and carrots. I also finally found the leftover avocado after almost needing to put out an APB on it.
If Baby Girl had been awake while I searched the fridge, I guarantee she'd have said "I tink the avocado ran away from home, Mommy." She says that about everything I can't find. It may be a sign of things to come so I must note this down onto my "things I must remember when my daughter turns 13" list along with "bar her windows". Anyway, not sure I'll eat the Babybel as that would add 2 whole points to my all Core lunch.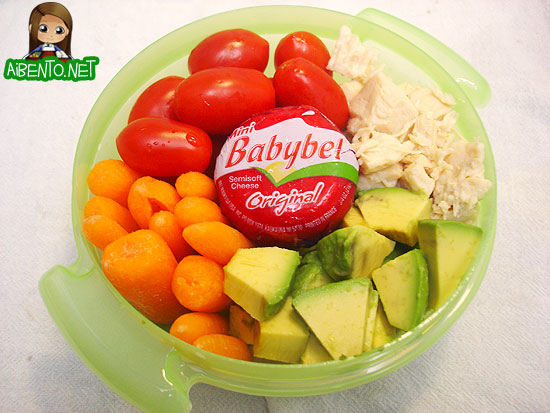 Fruit bowl has blackberries, mango, strawberries, and kiwi. The goal of the salad kit was to fill it with lots of tasty things that would negate the need for salad dressing. I've tried all the Kraft Free ones like Ranch, Catalina, and Italian Caesar. They taste like how you'd expect fat free salad dressings to taste like: ass. They're so bad I'd much rather go without em.
Forgot to mention, one of the things I did today with Baby Girl was to start a tomato garden (obviously Nexa wishes to infect me with another hobby as revenge for getting her into bentos). Of course me being me, I did first and read instructions after and found out I'd done it completely backwards. We'll see how it goes. I couldn't find a good pot variety of tomato anyway, so maybe it's best this way and I can have another go next week. While at Lowes we ate shave iceA very popular Hawaiian dessert called a snow cone on the mainland. Popular additions are a scoop of vanilla ice cream on the bottom or condensed milk poured on top! with ice cream. *gleep* Since it's pretty much syrup and ice cream, that's probably like a 15 point item or something ridiculous. I weigh in tomorrow, so I'm crossing my fingers.