Girl's Day Contest Winners and Bento
My kids have entered that period of their lives that I think all Hawaii kids go through at some point: The Lava Era. I'll be shopping for food with them when suddenly one of them will shriek, "MOMMY! DON'T STEP ON THE GREEN SQUARES, THAT'S LAVA!!!!!!!" Or we'll be in the parking lot and suddenly everything I'm standing in turns to lava. Most times I just go with it and hop around like my feet are on fire, other times when I don't care I'm just like, "I like walking on lava." It's become an obsession with them now and everywhere I go, I'm suddenly walking on lava.
The funniest part came this weekend when they were watching Planet Earth with Mr. Pikko and some lava came on screen.
Baby Girl: "What's that?"
Daddy: "It's lava."
Baby Girl: "Oh!"
Oh, kids. LOL!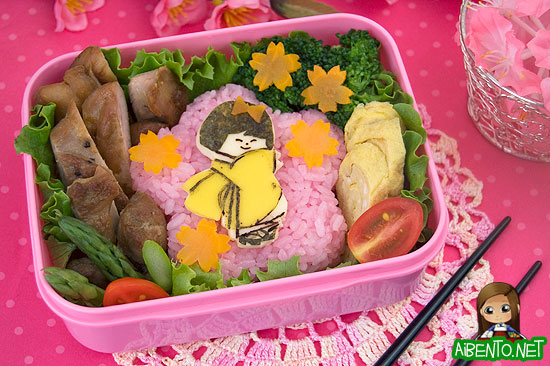 Last week I did a bento using some of my scrapbooking stuff and this week I continue with that by using an old rubber stamp I had to make a Girl's Day bento. So, if you're like me and have not only lots of papers, magazines, and other supplies, but rubber stamps as well, then you might want to try digging them out again!
I got this stamp at a local stamping fair years ago and it's always been one of my favorites for its cute factor. I have a sakura stamp that makes a great background for it too, especially with embossing.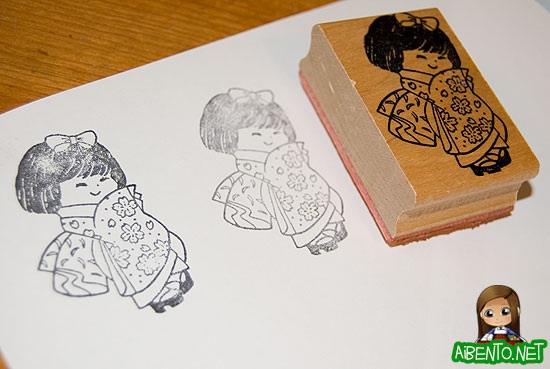 I stamped two images on a piece of paper. I used the lighter one to cut out the hair from nori, the kimono from yellow soy paper, and the shoes from nori. I cut the darker one out whole to cut out the cheese.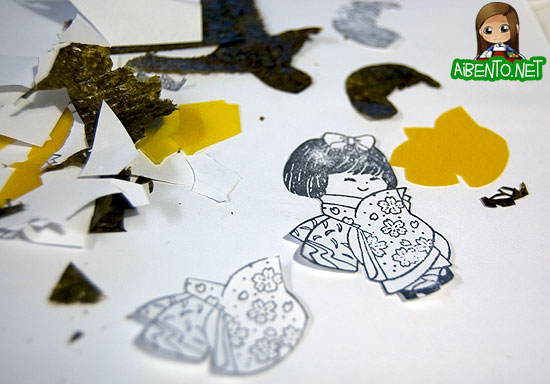 As usual, I cut the girl out from the cheese with a toothpick. The lines on the stamp weren't going to be on the paper, so what I did was I took another toothpick, put a drop of black food coloring onto a spoon, and painted right onto the cheese. The dark lines went through the soy paper to reveal a "drawing" of sorts. It didn't come out as good as I wanted it to as I had to do it freehand, but you get the intended effect. I didn't have the guts to try the flowers. Maybe I can try to find edible ink and just stamp cheese. LOL!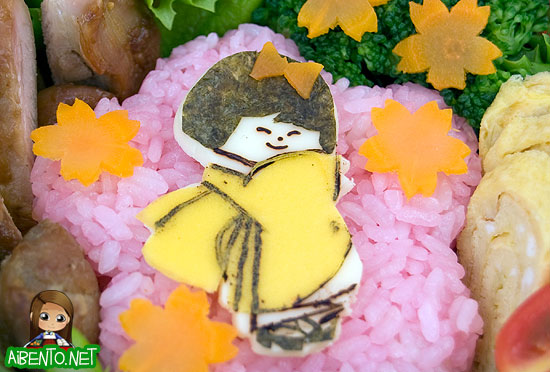 Here's a close-up of the girl. Her face came out pretty good, but I totally messed up the bottom of her kimono. It will definitely take more practice! She's resting on a pink flower onigiri colored with the pink ume powder I'm giving away today. On the sides I have broccoli, tamagoyaki, a sliced cherry tomato, asparagus, and some bite size pieces of Pari-Pari Style Chicken, which I made for dinner last night from Harumi's Japanese Home Cooking: Simple, Elegant Recipes for Contemporary Tastes
. It turned out a bit dry because I used boneless chicken instead of skin-on like in the recipe, but taste wise it was good, especially since Buddy asked for seconds!
Now, on to the contest winners. I accepted a total of 61 entries and today did a random draw of numbers to get my five winners:
Congrats to the winners! I'll be emailing this afternoon, so please reply quickly!