Ikebana International Bento Demonstration
The very nice ladies of the International Ikebana Honolulu Chapter 56 invited me to do a bento demonstration at their New Year's Luncheon today, so I spent the morning cooking a variety of things to take with me to create two bentos, one for adults and one for children.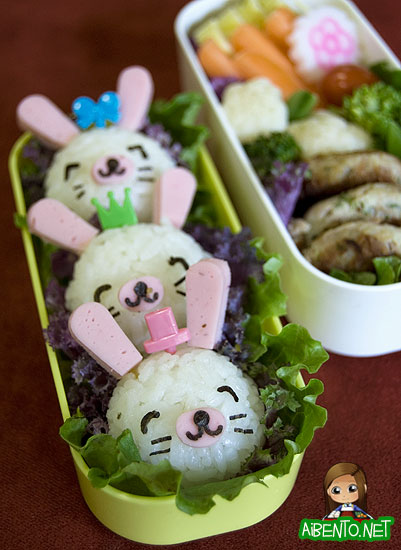 Here is the children's lunch that I did, which is rabbit themed since it's the Year of the Rabbit soon. I made the rice balls at home and did the decorating at the demo. In the background you can see some of the cute flower kamaboko that I found at Don Quijote last night. One of the ladies at the luncheon says they bring them in from Japan for New Years.
I had thought about making the bentos at home and then doing a demo of that very same lunch while there, but then realized that would mean I needed two bento boxes of the exact same size for both. That wasn't going to work for the adult lunch, so I decided to just bring a lot of food and "create" while there.
Here is the front bunny up close. You can see her fish sausage ears and nose. The eyes, nose, and whiskers are made out of nori.
Here is the adult lunch that I made, which includes three types of onigiri (ume, Seto Fumi, Nori Komi), teriyaki pork (though I brain farted and said miso at the demo), pickles, tamagoyaki, broccoli, carrot, tomatoes, and cauliflower.
They were a wonderful audience, oohing and aahing collectively, which always helps me through a public speaking event. Nothing is worse than crickets when you're demonstrating bentos. I'm a nervous wreck when it comes to talking publicly everything except bentos, but when you get no reaction, it can be unnerving even in your comfort zone. I want to thank them for being so nice and hospitable.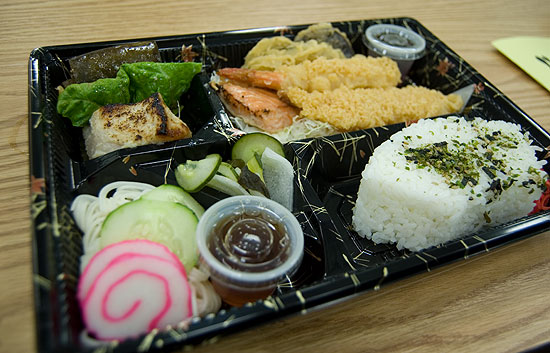 Here's a photo of one of the bentos from Natsunoya Tea House that they served. I had the fish bento, which included butterfish, salmon, and tempura. Very naughty in points, but very delicious. (I calculated at least 15 points)
I signed a couple of books that people brought in and apologized profusely to the women who were so sad to find out that I wasn't selling any. Grandma Mu came to watch and later told me I need to be more succinct. She had told me last week, "Crystal, in general, you talk very fast." I don't know whether it's her hearing or whether I really do talk like I'm on fast forward, but I'll have to try to watch that.
Hope you all are having a nice weekend. I'm off to go weed the yard again. The dang thing is almost under control and it's time to plant more black soybeans because only 2 of the darn things sprouted up!
Tags: Bento, Bunnies, Charaben, demonstration, fish sausage, Japanese, obento, Onigiri, Tamagoyaki, teriyaki pork, tuna patties