Bento Recipe: Pork Shiso Rolls
About a month ago, I posted a picnic lunch I made for Baby Girl's school picnic day and in it I had some meat and vegetable rolls that people really seemed to like, so I kept telling myself that the next time I made tonkatsu I would save a couple pieces of pork to do a recipe post on them. I finally made tonkatsu this week and so here is the recipe for those rolls.
In the end, this is what we will end up with: nice, colorful, and delicious rolls of pork and veggies! The addition of shiso is something I added on my own, so I'm all proud of myself for thinking of it. It's not often that I successfully improve something!
First up, you'll need some thin sliced boneless pork chops. I'm lucky enough to have a market that already sells cuts of meat like this for tonkatsu. You'll need one piece of meat for each roll, which will make 2 pieces. For each roll you'll also need the following vegetables: 1/4 small carrot, 1-2 green beans, and 1-2 shiso leaves.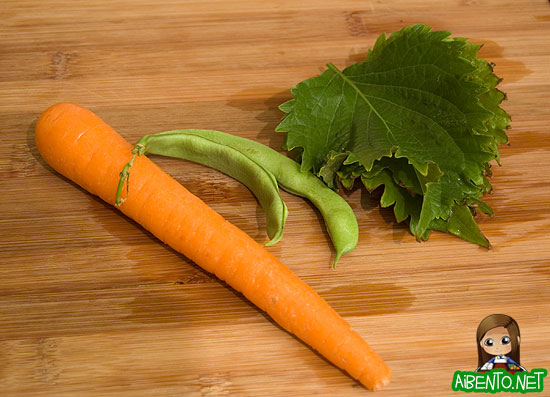 Peel the carrot and cut it into small carrot sticks about 3 inches long. Boil the carrot sticks and green beans until tender.
Once you've cooked the veggies, slice the beans in half lengthwise. Sprinkle salt on your pork slices.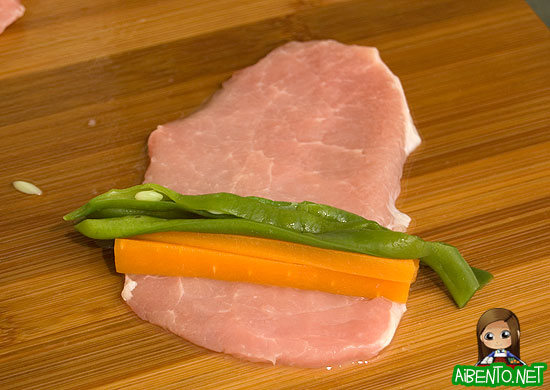 Place three carrot sticks and three green bean halves onto a piece of meat and roll it up tightly. Wrap the roll of meat in shiso leaves.
You should have a nicely rolled pork chop with veggies in shiso leaves.
Next, wrap the rolls with thin sliced deli ham and secure with toothpicks.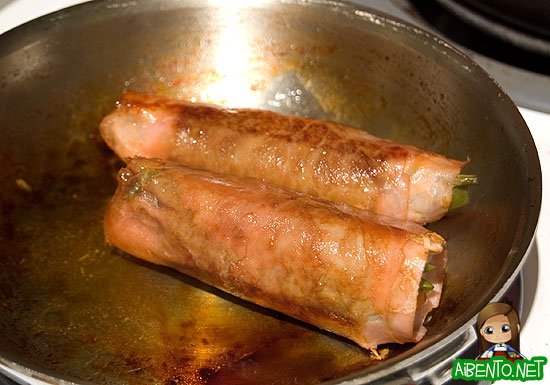 Pan fry the pork rolls on medium low heat, rotating them to cook the meat evenly. Sprinkle with soy sauce to brown the outsides and keep rotating, making sure to cook them long enough to fully cook the pork.
When done, let the rolls cool down a bit before cutting. Don't forget to remove the toothpicks!! Once you are ready, trim off the ends, making your rolls the same length. Then cut them in half and they are ready to go into your bento lunch!
I should note that if you don't like the taste of shiso, you should omit the leaves, as the taste is very strong. Since I love shiso, this is a definitely plus in my book! If you would like to try growing your own shiso (which is where I got my leaves), you can buy Green Shiso
seeds on Amazon.
When buying seeds on Amazon, I highly recommend you stay away from anything by Hirts Seeds. I've done a ton of seed researching and pretty much every item they sell has horrible, horrible reviews about their ridiculously low germination rates. I haven't tried it myself and don't intend to, I've read enough horror stories to stay far away. You can also try Johnny's Seeds, as they have reliable seeds and dates on every packet.
Pork Shiso Rolls Recipe
Makes 2 rolls (4 pieces)
Ingredients:
2 thin sliced boneless pork chops
1 small carrot
3 green beans
2-4 fresh shiso leaves
4 slices deli thin ham
soy sauce
cooking spray
Instructions:
Peel the carrot and slice into small 3-4″ long sticks. Boil with green beans until tender.
Slice the green beans in half lengthwise.
Salt a slice of pork and place three carrot sticks and three bean halves on one end. Roll up tightly and wrap shiso leaves around the roll.
Wrap two ham slices around the roll and secure with toothpicks.
Pan fry the rolls until cooked through, sprinkling with soy sauce towards the end of cooking to achieve a nice brown color. Remove to cutting board and let cool.
Remove toothpicks and slice ends off. Cut in half.