Pork Shiso Rolls Bento
When looking at my stats over the last few months, I noticed that my recipes category gets by far the most hits per page, so with that in mind, I plan to do more recipes like the one I posted on Friday. Hopefully this will help people with their own bento lunches more than just my finished bentos for arrangement inspiration. I know right now my recipes section is pretty pathetic, so I feel bad disappointing people.
I'd meant to post this yesterday, but have been busy with gardening stuff and with setting up my new blog. It sounds ridiculous, but I've started three new blogs this year already. I totally need to stop!!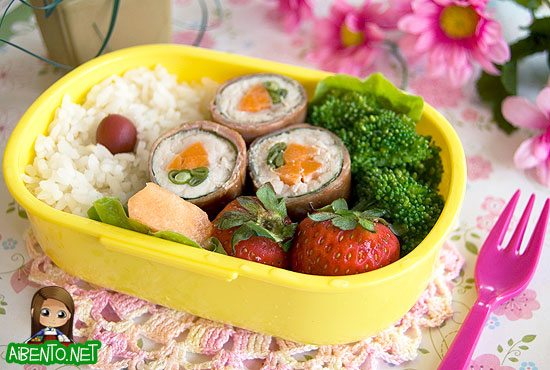 It's called Fictional Food and the concept is basically cooking foods from books, games, movies, and television shows. I'll do reviews of official merchandise, cook foods I read about in books or see in films, and also link to other fan foods that I come across. The idea came to me while talking to Jenn about possibly making lamb stew, Katniss' favorite dish from the Capitol. Since I have absolutely no restraint when it comes to starting blogs or buying domains, I headed over to GoDaddy
and busted out my cash once again. At the rate I'm going, I anticipate starting another blog in May too. *sigh*
Anyway, since it's still new I'm kind of just populating it with foods I've done in the past to fill it up with content. I did, however, do one post that involved a lot more effort: Perfectly Prim Goat Cheese from The Hunger Games. It was the first time I'd made cheese and for it I feel all accomplished and stuff. Now if I could just get around to writing the five movie reviews and three cookbook reviews I have queued up I'd be all set.
Back to the bento… I had a hard time making this one because the rolls were taller than I thought. I put it into my cedar box first, but it was too tall and I had to take out the rice and rolls and start all over with another box. Then I couldn't find a way to put in the fourth piece, so I had to just take it in the container I'd been storing them in to eat during lunch. After that, I tucked in some of Mr. Pikko's inedible lettuce, broccoli, two strawberries, and a piece of gold melon.
Don't forget to enter my Asian Food Grocer giveaway. Deadline is Tuesday!