Okinawan Sweet Pork Bento, Take 2!
I hope you all had a happy new year! My year started out pretty crappy, with the fire alarm going off, Buddy peeing the bed, Baby Girl having a fever, then later in the day I dropped an open can of tomato sauce from the fridge and it splattered tomato sauce everywhere from the floor to the ceiling. I could NOT believe all the places I was wiping! Now, on to my first 2012 bento!
A couple months back, I posted an Okinawan Sweet Pork bento and said I would be trying it again, only this time by cutting the meat into bite sized chunks. I finally got around to doing it this week and not only did the meat get fully flavored, but it was delectably soft and easy to eat, too. Here's a new bento from this week that I did with the leftovers.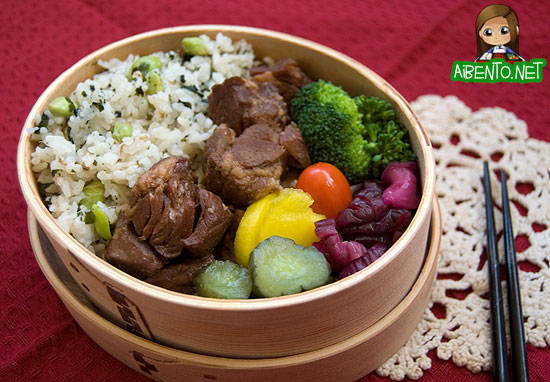 This magewappa is one of the best quality boxes I have. I've used it quite a few times and it still has that wonderful wood smell when you open the box. Sadly, this box isn't available on J-List right now, which is where I got mine, but Bento & Co does have several in stock. Magewappa boxes should be looked at as an investment you can pass down to your children, which is one reason why they cost so much, they are made to last, handcrafted from cedars trees that have been grown and tended for a hundred years.
Inside this bento I have healthy rice (recipe here), leftover pork,broccoli, pickles, and one of Mr. Pikko's grape tomatoes. This recipe below is from my Maui Cookbook
.