Take Your Picnic Tiffin from ModCloth
I've found while that during the rare instances I pack a lunch for Baby Girl, she prefers me packing her a lunch in a thermal jar that will stay warm. I own several Zojirushi Mini Bento
 containers, one being a really fancy pants one with a cute black purse that Baby Girl, of course, "borrowed" to add to her purse graveyard.
The chic online store ModCloth now carries several really cute bento boxes including some from Shinzi Katoh and Vivo bento boxes, but the one that interests me the most is their Take Your Picnic Tiffin.
This box is a two tier insulated lunch container that comes with a handy inner container that you can use to put rice in. The coolest part about it though, it that it comes with tiers that screw into each other.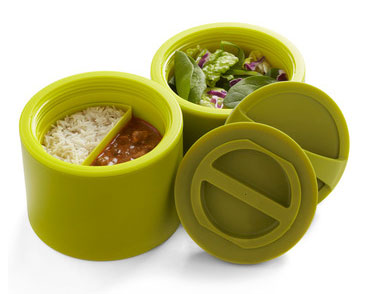 I'll need to get my hands on one of these to see how practical the screw tops and bottoms are. I'd also need to test these on the kids to see how they handle it. If it's too much trouble for them, I'd just end up with a really disgusting, leaking bag of taken apart lids and jars with food all over it. The last thing I want is another "Oops, I forgot I left that there over the whole weekend" ant farm behind the front door.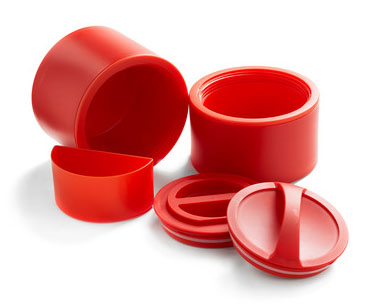 The box also comes in red, which would make a really nice box for Valentine's Day. It looks really small in the photos, but when you look at the product details, it says these things are 6″ in diameter. That leaves you with a pretty sizable lunch!
The Take Your Picnic Tiffin sells for $27.99.