Ghost Sammies Bento
HAPPY OCTOBER! It's officially my favorite month of the year, and it's totally time to bust out all the Halloweeny bento stuff.
No update on Mr. D's lunch yesterday, as he forgot his bento box in his classroom. He claims he ate the muffin and a whole half sandwich, plus a bite of the other half. That's not bad!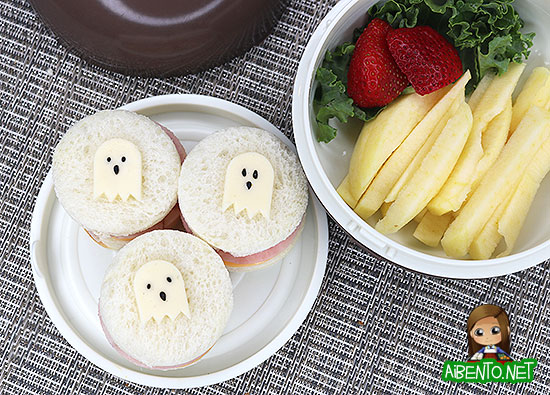 I surprised Mr. D with these ghosts, but I was a hot mess this morning because I got summoned to his bed at 4 a.m., then when I finally fell asleep, I got woken up by him yanking on my hair. Eventually I got fed up around 5:20 and just woke up for the day.
In other words, keeping with the Halloween theme, I'm a zombie today.
Anyway, I was lah-dee-dahing and not keeping track of time. I forgot to time myself, and I also found out I'd thrown out my last bag of nori because it was old, so I had to go with black sesame seeds for the ghost faces. This turned out rather cute. Mr. D did the one on the right, though I had to coach him so that he wouldn't smash the seeds all the way through, as is his Hulk way.
The cutter I used for the sandwich was a plain round cutter from an Ateco set. Metal cutters are seriously so good for cutting bread versus plastic cutters! The ghosts probably would have looked better on wheat bread, but I don't have any right now because I was being ridiculous and bought a Costco loaf of Japanese La Tour bread that's about as big as my dog. That thing will last a good long while.
Update: I forgot to mention that I used the arms of a Stormtrooper gingerbread man cutter to make the ghosts!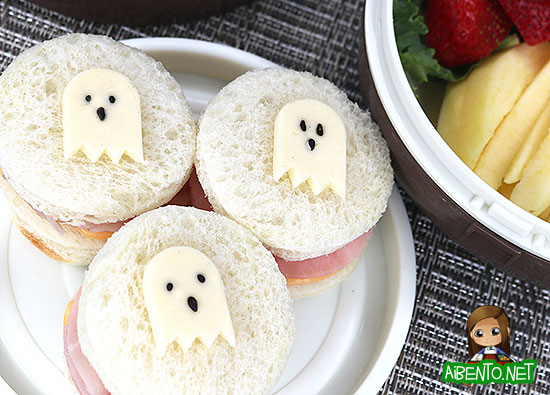 He asked for apple fries, but I was in such a hurry that I forgot to put in a muffin, something I'll probably get scolded for this afternoon, lol.
Since he forgot his lunch box at school, I went digging into my old stash of boxes. I'd just picked out my fancy bagel bento box when he tried to open the clasp and snap! he broke it off. He's not called Mr. Destruction for nothing. I was still able to use it, and I just tied it up in a cloth.
I packed a lunch for Mikia too, but since it was just mac and cheese in a vacuum-sealed jar, I didn't take a photo. I tried out a box of Annie's Butter & Parmesan mac, and she ate half of it for breakfast and said it was pretty good.
Don't forget to follow the new Adventures in Bentomaking Instagram!