Cute Mummy Hot Dogs Bento
I got two of Mr. D's lunch boxes back yesterday. The chicken sandwich one was pretty much what he'd told me. He'd eaten a whole half and then bitten the other. He ate the muffin but left all the fruits (argh!). So I guess he's pretty reliable when it comes to telling me what he ate.
The bagel box came back with only fruits left, which he says was because his apples were "rotten." It made me realize that I've been forgetting to dip the apples in water or diluted lemon juice, so they've been browning. Probably why he hasn't been eating them. Big oops on my part.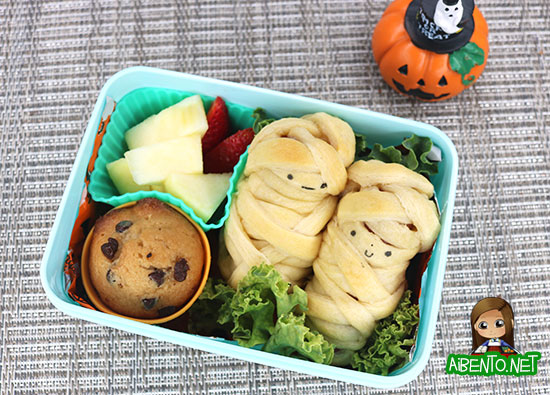 Today's lunch has two mummy hot dogs, which I made with one bun-length hot dog and two Pillsbury Crescent roll triangles. I made the faces using Wilton FoodWriter pens. I went to Compleat Kitchen in Kahala to find them, and although they were freaking expensive at $12.50, I didn't want to go to like two more stores looking for a better deal. I was pretty irritated when I saw Amazon sells them for $5.20.
I'd previously put faces on using nori and butter, but that was kinda hard, and the pens were super easy.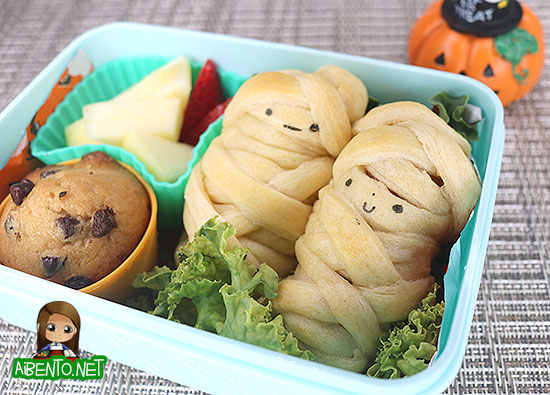 Here's a closer look. I did smudge in some places.
Actually, now that I look at it, the way I made the one on the left makes that mummy look like a mama with her hair in a bun while wearing a kimono. 🙂
I used some Halloween foil my sister-in-law got me in Japan, but sadly, you can't see it. Hopefully I can use it to hold a sandwich soon and you all can see what it looks like. It's super cute.
Mikia's bento was leftover pork tenderloin.
She recently told me she'll eat salad as long as she has ranch dressing, so I bought some and included a little salad for color, along with a variety of pickles (fukujinzuke, takuan, and sanbaizuke).
She's been asking me in the afternoon and at night the last two days, in between asking me seventy times what's for dinner, "What's for lunch tomorrow?" So I guess me packing two lunches in the morning is now officially a thing.
I forgot to time myself with this one! Happy Hump Day!