Chicken Fried Rice Bento
I went to Marukai on Friday and it was basically a total phail trip. The only new item I found for myself was this packet of tiny Miffy paper cups for the kids and even that I found completely by chance in the gardening section. Everything else was nearly gone. Hopefully I will be luckier on my next trip, for now all I was able to accomplish was some bento box purchasing for an Allakhazam forumite. Still no egg molds, furikake bottles, reusable divider cups, or bento straps for the putifresh boxes. Bah!!
Lunch today is chicken fried rice simply made by chopping up some leftover Costco chicken and adding 1/2 cup of rice, a little Aloha shoyu, and then topped with furikake.
My bottom layer has asparagus and edamame. Boy do I looove the pre-cooked frozen stuff! All I do is wash the ice off and throw it in and by the time lunch rolls around it's all defrosted and ready to eat! 😀 Sides today include kim chee crab and avocado salad, a fruit bento with strawberries and cherries, and a crispy yellow peach.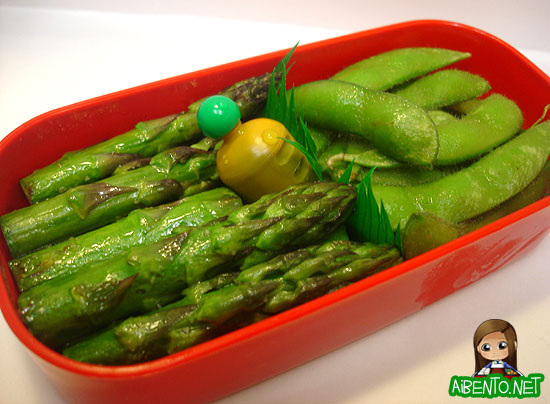 We ate out at Monterey Bay Canners and I was betrayed by my waiter. I decided to get fish and since they had Opakapaka (pink snapper) on the menu I decided to get that. There was a version "stuffed with crab salad" and so I asked how they cook it and he said they bake it then top it with the crab salad. I figured being on track meant I could splurge a bit on points and get the salad because it most definitely would come with mayo.
Well the food comes and he plops this bowl of goo in front of me. I was like, "Excuse me, I ordered the opakapaka." Turns out that IS the opakapaka, only he kindly forgot to tell me that they douse the frickin' thing in a butter cream sauce. Overall, it wasn't the greatest of experiences. The kids' chicken nuggets were way burnt, the calamari we ordered was over-fried, my sis in law didn't like her steak, and hubby said his prime rib wasn't that good. Plus it irritated me that he brought the kids food last. Meanwhile my son is so hungry he's thrashing his head against the back of his highchair. The fish was good, though I had to immediately bail it out of it's little fishing boat dish in the hopes that would help me avoid a few thousand more calories.
Today was weigh-in day and despite being reeeeally naughty this weekend (Milano Freezer frozen yogurt on Friday, a Jello Cream Cheese square from Zippy's on Saturday, and Milano Freezer again on Sunday) I lost weight again! As of this morning I am 130.3 lbs! Yesterday at dinner I got told by two people in separate conversations that I look like I lost a lot of weight. My MIL said I looked really good in my jeans. I will probably be buying a points calculator and then canceling my Weight Watchers subscription to save money. The "switching to maintenance" article showed up for me and says that to maintain, I'd get 9 points a day instead of 5. I feel like I can see the light at the end of the tunnel and 9 points seems SO doable to maintain my weight. I'm so so glad that I decided on Weight Watchers and I hope that anyone I inspired to start up finds the same success that I did. <3