Steamed Opakapaka Bento
I've survived the weekend with my two little tornados. I had to clean the house three times, but what can I do, they're both in their rascal phase. Saturday I took them to Foodland and while I was buying kim chee crab, spotted a really huge opakapaka for sale. This is hands down my favorite fish to eat so even though it was a whopping $28 I picked it up. Unfortunately, it was probably reaching the end of it's shelf life as on the way home it really stunk the car up something awful. I'm pretty sure truly fresh fish isn't supposed to stink.
Anyway, I steamed it with my Progressive fish steamer and then poured smoking peanut oil on it followed by liberal amounts of soy sauce. I've made this once before with a small Tai Snapper and it came out good this time too! The kids ate a lot, especially Buddy, who had like 3 helpings. I took a piece with the skin still on for looks.
My Grandma K would be SO proud of me for serving a dinner with carrot and celery sticks. I don't remember eating dinner at her house all that often, but one thing that definitely sticks out from all the dinners I do remember is her plate of carrot and celery sticks. It was always there without fail.
Funnily enough, many of those dinners I remember as being a bigass steamed fish like this one I cooked. All I needed to give my kids to complete the nostalgic dinner was a really HUGE glass of milk. Sadly, I don't have the kind of big glass cups she had. Plus, cups of milk that huge are just going to end up spilled on the floor or being swished around by Buddy's milk hungry fingers. Or both!
Extreme close-up!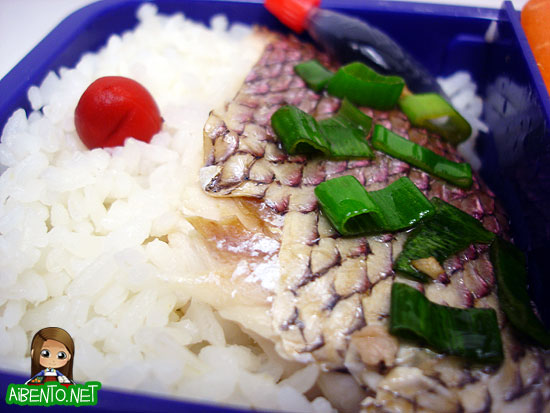 The fish tasted really great and healthy, though I still wish it had been fresher. I added to the top some of the fattest green onions I've ever seen in my life. In my little fish bottle I have Aloha soy sauce. With fish like mahi or salmon I prefer to eat it with a strong sauce like Kikkoman or Yamasa but light tasting fish like this one just get drowned out so I got for a light taste like Aloha. I count this lunch as 2 points for the rice.