Tonkatsu Bento (145)
Last night as predicted, I didn't feel like making a pumpkin pie. The good news though, is that I now have ground ginger! My mother in law lent me her bottle. I'm told I have two days to use the pumpkin before it goes bad, so we'll see what happens tonight.
We had tonkatsu for dinner and I took home two pieces for Mr. Pikko, who was home sick again. He didn't eat all of the second piece so I sliced it up and took his leftover rice as well.
In the little green container (which was a gift from one of my bento customers!!) is some tonkatsu sauce. I included the three tomatoes for color. I should have added some carrots too or used the orange sauce container instead, but I was in a hurry. I peeled some sections off the cucumber before I sliced it to give it that look.
In my second layer I have some sliced persimmon on the left. On the right side is a mixture of pomegranate seeds and blueberries. A very healthy fruit layer!! 😀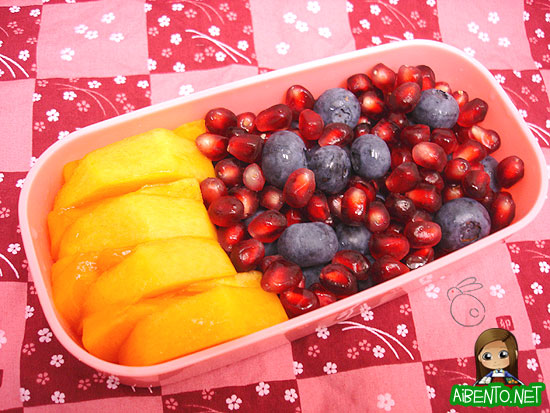 Tomorrow I start off hosting a gaming radio show on the net at Online Gaming Radio. Yet another reason why I've been going cuckoo lately. The show is about Final Fantasy XI and is called "The Mog House". It will air live every Wednesday from 6 to 9 PM PST. My co-hosts are two of my fellow administrators at Allakhazam, ImperialNinja and Exodus. If you're into FFXI and are bored around this time, please tune in! Shows are available later as podcasts. To listen in just go to the Online Gaming Radio website and click on "Listen Live" at the specified time.