Beef Broccoli & Party Leftovers (154 & 155)
Last week Friday I can't even remember why I didn't blog my bento, which shows how the holidays are taking a toll on my sanity in addition to the transition to the new job and a Fan Festival writeup that is now over 3 weeks overdue. I had leftover Beef Brocolli.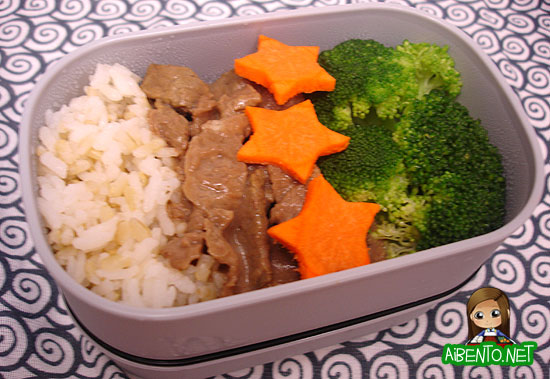 It didn't have much color so I just put a few star shaped carrot slices onto the middle of it. It's a very easy way to brighten up a bento and so quick too! I have some Christmas shaped mini cookie cutters I'd like to try out on my bentos in the coming weeks, but I'm not sure what I'll cut out just yet.
Yesterday we went to my cousin's son's birthday party and they had food catered from a place called Tanioka's in Waipahu. The food was really good!! I totally snarfed down about 3 meals worth of food like the horrible WW cheater that I am lately. I bounce between 125 and 128 all week and at the end I can usually end up right back at 127. If I were to finally go back to my diet I think I'd have no problem getting to 120 at last, but I've just been so lalala lately that maintaining this way just seems a great way to have fun with food.
Anyway, we had leftovers to take home and I packed a lot into my bento because I didn't want it to go to waste.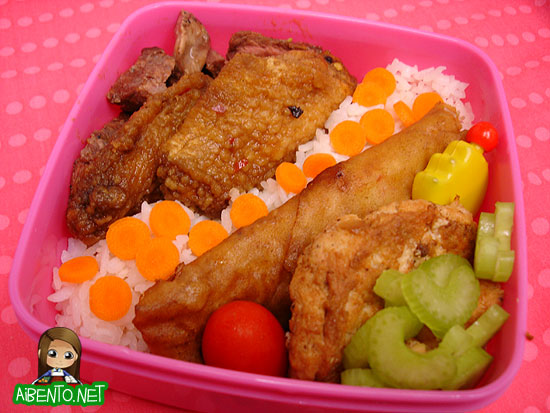 In the back is some sliced steak. On top of that are two mochiko chicken wings, which though I know are so horrible for you, tasted oh so good. In the middle I have rice with little slices of baby carrot decorating them. Tucked next to that is a piece of lumpia and then a salmon patty. In the little yellow tulip bottle I put some soy sauce for the lumpia. I added the tomato and celery for additional color!