Breakfast Bento (311)
I was just thinking to myself, if I were to make a bento every day plus one extra, I could do another Lost bento on Wednesday and that would be my 316th bento. You know, like Flight 316? Oooo, freaky huh? Now that I've said that I have to do it! People on Bento Lunches were requesting that I make a Fringe bento now, so the wheels are turning and I've got a great idea to try out. When I told Mr. Pikko what it was, he said, "Oh, that'd be hot!" so I'm excited. I have no idea why he's channeling Paris Hilton, though.
Today I'm reviewing two products for From Japan with Love, one is a bento box and another is this really cool bento tool that I was very excited to try out: condiment pencils! To do the review, I made a breakfast bento. (which I've already eaten)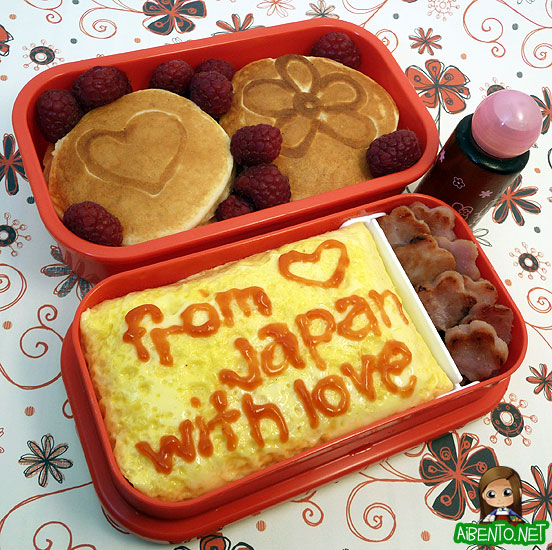 This took me a whopping hour and a half because of the dang pancakes. I'm still getting the hang of it and this morning I was cursing each pancake I cooked too long or didn't cook long enough or what not. I really need to find a small pancake griddle. Do they come in that size? I don't have the room for a full size one.
I'd been planning to do this bento for over a week, but early experiments with the pancakes just weren't working out all that well. The condiment pencils have a variety of uses, including decorating cakes and making Playdoh-lookalike hair on hamburger patties out of broccoli paste (I think). The instructions were written completely in Japanese, so I had to make do with the pictures. There was one picture that I just HAD to try when I saw it. The image depicted a little pancake with a chick drawn onto it. *gasp*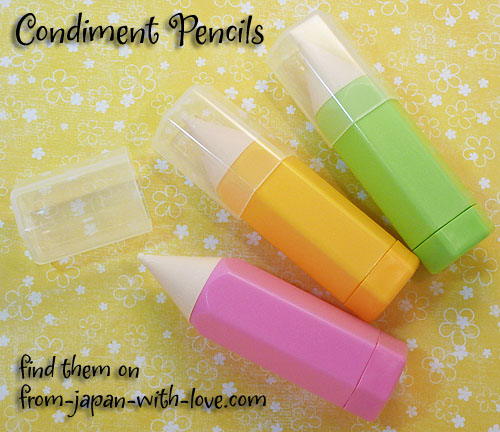 The package contains three different pencils in three different colors. Each pen has a cap and unscrews from both the top and the bottom, making it relatively easy to clean the whole thing. It's a bit skinny, so I had to stick my finger inside to wash the inner sides. It wasn't hard though.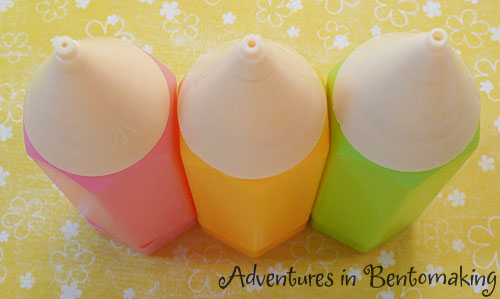 Each pencil is a different width, so you can use them for varying writing thickness. The first time I tried these with the pancakes was a disaster. I hadn't really thought about the little unmixed balls of Bisquick in the batter stopping up the pencil tip, so in the middle of drawing something in the pan, it would stop up and I'd have to get a toothpick to clear it out. My second try, I ended up just using my electric mixer on the batter to ensure that there were no lumps. This helped a lot. The pink pencil is basically unusable for pancake batter because it's so thin. This is probably better left for things like mayonnaise that flow very smoothly.
I used the green pencil for today's pancakes and although I'm getting better at drawing in pancake batter, be warned that it does take practice. The good news is that no matter how crappy your hearts or flowers or Hello Kitty's or whatever are, if you have a little girl, she'll freak out over them and eat them like they're going out of style. Baby Girl ate six pancakes from my first batch, telling me, "Mommy, these are delicious!". So, your frustrations over how they look are only really going to bother you at first. It's difficult to judge how long you should leave your drawing on the pan before pouring the batter down onto it, but for sure you shouldn't let the design start curling up. The reason for this is that the batter you pour over the design will just seep under it and basically erase your cute pattern.
You can see what I mean by the heart on the bottom. That one curled up and the batter went under. This really pissed me off because it was the best heart I'd drawn so far. Like I said, this takes practice. The other thing to remember is that you have to watch your pancakes and be ready to flip them as soon as the edges begin to firm up, otherwise you'll end up with a burned looking pancake like the one on the left or a pancake that just blends right in with the design (middle). Achieving perfect circle pancakes is also hard because the batter you pour over it ends up running all around the design. I had to use a spoon to quickly make the batter round out. It might be that this was difficult because of the small size of my pancakes. I needed it to fit into the box, so I had to make little ones.
After I made the pancakes, I added six to the box, putting the nicest ones I could find on top. I tucked raspberries in between all the open spaces. Here's a close-up of that tier: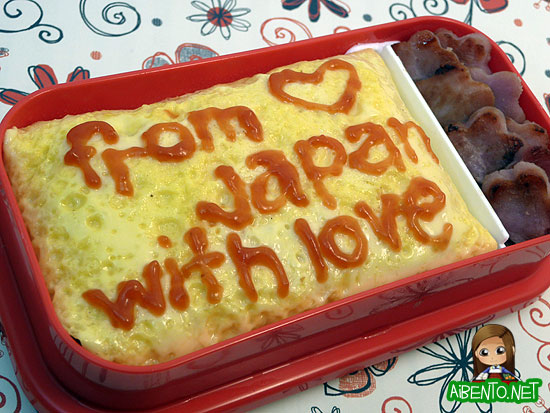 For the larger tier, I made some fried rice. I used up the last packet of my Salmon Fried Rice mixture. These are really easy to use. You simply fry an egg in oil, breaking it up into little pieces, add 2 bowls of rice, then add the flavor packet and mix well. It doesn't need any ketchup or shoyu, it's tasty enough just as is! I have a package of crab flavor to try next. I got them both at Marukai.
Next, I miraculously fried a thin omelet in my little frying pan with no problems. The thing actually came out of the pan in one piece. I was amazed…. Anyway, I tucked the sides down and then added the food divider, pushing the fried rice to the left and then finally tucking the last side in. I cut a piece of ham steak into flowers, then sliced the flowers in half to get thin flowers. I fried them as-is in a pan and after adding the scraps to the bottom, layered the flowers nicely on top.
I used the pink pencil for the ketchup writing at first, but started to get frustrated, so I switched to the yellow pencil and this helped the writing dramatically. Writing with ketchup is worlds easier than writing with pancake batter! The best part was that if I messed up, I could just swipe the ketchup off the omelet and try again. I'm a big fan of this ketchup writing thing. Pancake writing… not so much.
The condiments pencils have one other great use that I've discovered so far and that is they're great for filling little sauce bottles with ketchup and tonkatsu sauce. Sauce bottles tend to come with a little suction filler thing but there is no way you can ever wash that thing out besides rinsing and it sucks for doing thick sauces. With these pencils, you just fill the pencil up with the sauce and then squeeze it into the little bottle. This was how I filled up the little bottle with tonkatsu sauce for my frog bento last week. It's a very, very handy item for this task, especially if you opt to fill up several bottles at once and store them in your fridge, ready to go.
My Allakhazam co-worker Fleven suggested I do a final image with lines pointing to everything, so I'm giving that a try today.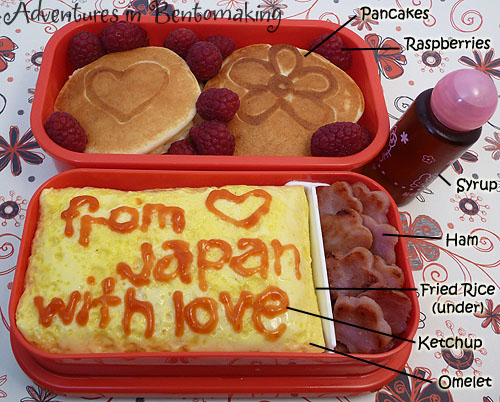 It might be a bit redundant with all the writing up I do on a bento, but I actually like the idea. Let me know what you guys think. I suspect the little syrup bottle I brought is meant to be used for shampoo, haha! Who cares though, it made a great syrup bottle!
The bento box that I'm using is a Little Red Riding Hood box, also available on From Japan with Love.
Mr. Pikko asked me what Otogicco means and I have no idea. Maybe someone can  englighten me! The larger layer of the box is 280ml and the smaller layer is 220ml. Both layers have a bit of a buffer space from the cover, so I didn't have to squish anything down to close the box, which is always nice. The box is on the smaller side, but with two layers, it still holds a decent amount of food. It was the perfect size for my breakfast bento. Here is the box all closed up.
I hope you've all enjoyed my first breakfast bento. I know my tummy sure did! I made a Sumo Ramen date with Mr. Pikko yesterday, so my bento eating is done for today. ^_^