Halloween Wrap-up and Two Bentos (411)
As you may have guessed by my sudden lapse in posts, after Halloween was over, I was burnt out. Halloween themed bentos, an 8-hour pumpkin carving session, a pumpkin carving contest with over 130 entries to judge, trick or treating, a disastrous cupcake situation, and a disgusting dinner (below) all combined to simply do me in.
I mentioned this disgusting thing last week after Mr. Pikko saw it on Fark. Mine didn't come out quite as good as the Not Martha one, but it still was disgusting enough to make Grandma J freak out over it. I had planned on simply molding it by hand, but when I went to Foodland to buy the meat, I just so happened to see the exact same Hand Gelatin Mold
that was in that blog post on sale for just $2.50. After I clamped my jaw shut, I eagerly bought it and showed it to Mr. Pikko.
Using it for meat loaf was really easy. All I did was spray the mold with Pam before smashing the meat in, then I simply put it in the pan and baked as normal. The piping of the mashed potatoes was actually quite difficult for me, so my fingers look pretty skinny. Still, it's disgustingly disgusting and the onion "bone" came out really great too.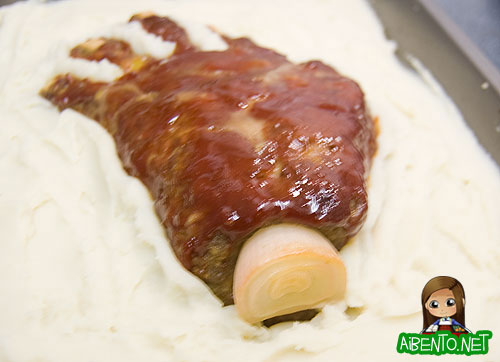 If you can find the mold, I highly recommend you try this next year. It's a great scary dish.
I've been seeing lots of spiderweb cupcakes on Food Gawker, so when I saw this chocolate ganache one, I decided to go for it. What a freaking nightmare that turned into.
I'm still not sure what went wrong, but after I looked up other ganache recipes, they all seemed to call for some type of cream while this one does not. I have no idea how they got their frosting to work with those ingredients, seriously. My first batch looked like this:
It began to clump up as soon as I added the confectioner's sugar. Maybe it's because I used semi-sweet instead of bittersweet chocolate? If that made such a huge difference, I wish that had been mentioned. Thinking that I'd overcooked the chocolate, I tried again.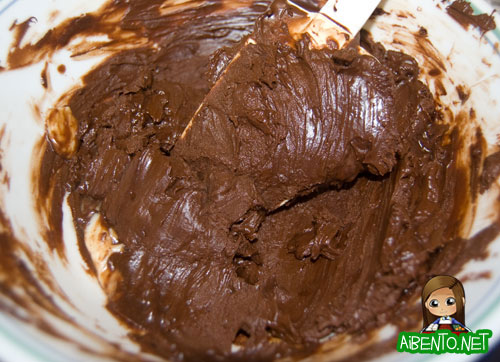 A little better, but again, it hardened up as soon as I added the sugar. Good thing I had a big, honking bag of chips from Costco otherwise I'd have been so much more pissed than I already was.
Eventually I took to the internet for another ganache recipe and this time used evaporated milk. The recipe for some reason didn't give nearly enough chips in the frosting, so that one failed too. I ended up with something that looked like chocolate milk. By this time I was raging mad, so I just started dumping more chocolate chips in until finally it looked like a real frosting.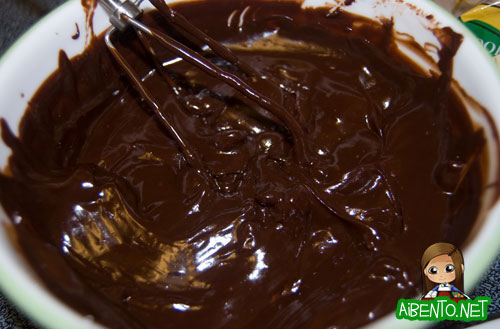 The sucky part was that this bowl is AFTER I frosted 24 cupcakes. I had to add so much chocolate in that I ended up with enough to frost about a hundred or more. I ended up trying in vain to eat these with strawberries, but about 3/4 of it got dumped.
…
Anyway, it all turned out well in the end.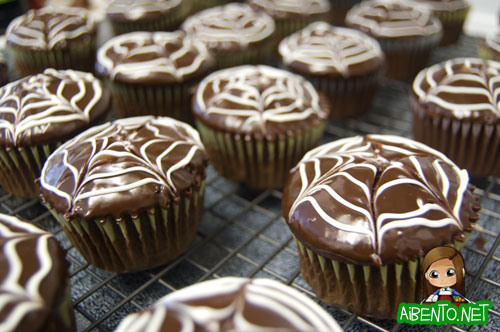 I still wish I didn't have to dump so much chocolate…. but there was no way to justify just eating it all.
I made two bento on Monday for me and Mr. Pikko.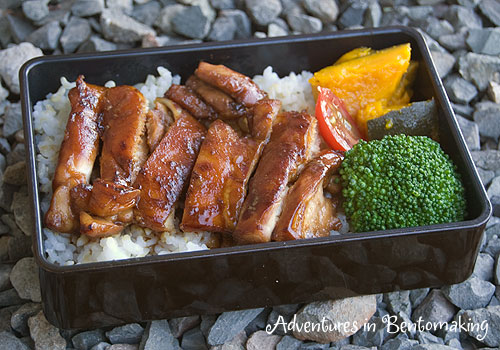 This one is his, simple enough after cooking the chicken. I simply laid down rice, topped with chicken, added broccoli, kabocha, and half  a tomato and done! Mine was slightly different with a lot of rice and a big ume.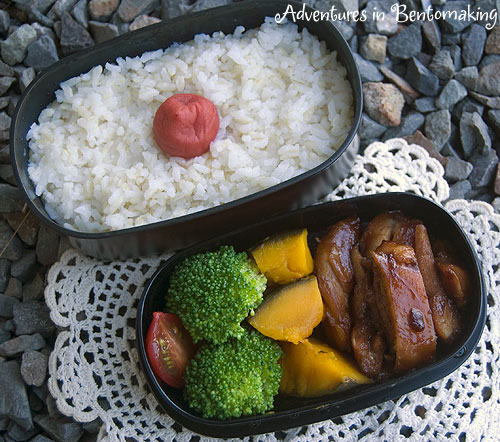 I ended up not eating all the rice. It was just way too much, even for me. I hope everyone had a nice Halloween. Thanksgiving bentos are next!