Tonkatsu Bento Buddies
Wow, a two week bento hiatus. I feel like such a… turkey. Ha ha! Last week I kind of lost my drive after Monday, then come Sunday, just when I had plans for several cute Thanksgiving bento and some book reviews, I got sick. I ended up feeling better Tuesday night, but my fever came back Wednesday morning and I knocked out later that day for hours upon hours. I'm finally feeling decent again, just in time to catch New Moon with my cousins tonight.
When I came in on Wednesday, I looked at my windowsill and find this: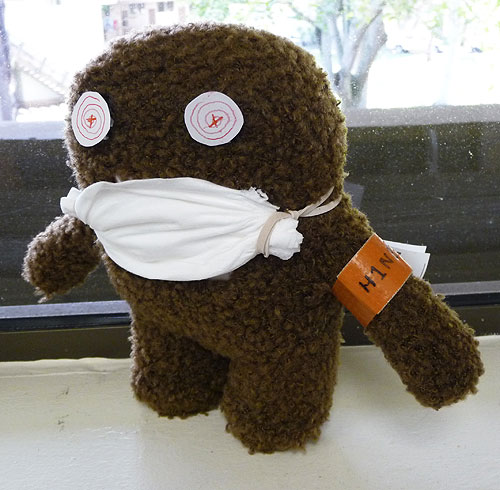 My co-worker, no doubt the same one who vandalized my poor Domo the last time, struck again! I cracked up laughing and had to take a pic. The poor guy gets so much abuse and then I go and laugh my ass off at him.
Today's post isn't completely bentoless. I made lunch for myself and Mr. Pikko last Monday with leftover tonkatsu and that darned batch of kabocha that didn't seem to ever go away!
I'll start with Mr. Pikko's lunch.
It's boring, I know. There's no green to it, so I'm rather disappointed in how droopy it looks. Very rainy day-ish. I find it difficult to make his man bentos look nice, but then I guess men don't really want frilly, nice bentos anyway. I gave him sauce separately in a little sauce container.
I'm happier with mine, though the cuts look a little odd on the top. I should have switched the layers of katsu to make it look better. Aside from the small portion of rice, I have kabocha, baby carrot sticks, a baby Roma tomato, and some cucumber pickles in a paper food cup. Those pickles are something that I buy at the market and they're really yummers!!
Hopefully I'll find time to do the things I'd planned to do in the last couple of weeks in the coming week. You all know me by now, a plan is rare! It shouldn't go to waste!
Speaking of wasted plans, I wanted to do New Moon bentos too, but ended up not really feeling like spending hours cutting out Edward from nori, especially for the crap that is New Moon. I have a feeling I'll enjoy the movie tonight simply for the fact that it's not directed by some creepy 40 year old lady who acts like a teenager, but I know I'll definitely want to fast forward through the entire middle of the movie, despite Jacob Black's hot abs. He may look great, but I can't forget he's 17. Just can't. Plus, I am reeeeally not a fan of the hole in Bella's chest. I don't even really want to see Eclipse. Let's just cut to Breaking Dawn and get to the good stuff already!
And then, for the love of vampires, please "re-make" Twilight with Midnight Sun. Book first though, chop chop Stephenie Meyer!