Tonkatsu Bento and Haiti Fundraiser
As I'm sure everyone knows by now, Haiti was rocked by a devastating earthquake on Tuesday. Yesterday, Susan Yuen of Hawaii's Bento Box Cookbook contacted me, wanting to know if I'd be willing to run a fundraiser/giveaway to encourage people to donate money. A string of e-mails and options later, we ended up deciding on a lottery ticket deal.
Together, we are offering a total of 11 prizes. To be entered, we ask that you donate $5 to me, which will then be donated to the American Red Cross. Here is a photo of the grand prize packet, worth over $45:
Susan and I discussed the issue of trust with the donation, as I myself would recommend only donating directly to an aid organization. With both she and I having bento cookbooks coming out this Spring, we hope that our reputations will be enough to convince you that we will stay true to our word and make the donation once everything is done.
Update:
January 16, 2010 – It has come to our attention that the type of fundraiser we are currently holding is considered a raffle, which are illegal in the state of Hawaii. In order to comply with Hawaii State law, we will unfortunately need to make changes to the way the fundraiser is being held. These changes include:
Offer of full refund to those who have already donated with the opportunity to re-enter the drawing under the new rules.
Anyone can enter the drawing, however we request that you donate X amount of money (amount of your choice) directly to a reputable and verified Haiti relief organization.
Limit of one entry per person into the drawing.
Those that choose not to request a refund will still be entered in the drawing and 100% of your donation will still be given to the American Red Cross' Haiti Relief effort.
While we realize that the new rules of this fundraiser do not guarantee donations to the cause we support, we are optimistic that the honor system will sustain the good will of our efforts and that no one will feel the need to deceive us in order to win the prize. Please accept our sincerest apologies for this terrible oversight on our part.
How to Enter:
You may enter one of two ways. Proof of donation is not required.
Donate using the 'Donate' button at the top right area of my site. Use this option if you do not intend to claim it as a charitable donation. Please only use this option if you intend to donate $10 or less, as PayPal will take a small portion, which I am covering myself.
Comment about the fundraiser and ask to be entered. If you donated money directly to a relief organization, please indicate the amount so that we are able to gauge how much we have raised.
There is a limit of one entry per person. This contest is open to participants worldwide.
Please note that you do not need to have a PayPal account to donate. Simply click "Continue" where it says "Don't have a PayPal account?" and you can donate by credit card.
Drawing:
There will be a limit of one prize per person. Names will be drawn from a bento box (ha ha!), with the first name drawn being the winner of the grand prize. After that, 10 unique names will be drawn for the additional grab bag prizes. Last names will remain private upon announcement.
The grand prize winner will be notified via e-mail and this blog and must reply back to claim the prize within 48 hours. Failure to do so will result in the second name drawn being awarded the grand prize and an additional name being drawn for the last grab bag.
Prizes:
10 bento grab bags worth $10 each (donated by myself and Susan)
One grand prize package worth $45 (donated by Susan)
Included in the grand prize are the following:
450 ml Totoro bento box with food divider
1 packet animal food dividers
1 set food picks (petals, balloons, rings, bones)
1 pair monkey sauce containers
1 set animal sauce bottles with squirt bottle
1 set mini charaben cutters
1 set mini utensils
1 multi-face nori punch
1 set ribbon/hat/crown food picks
1 packet elephant food dividers
On the back of the nori punch packaging there are ideas for the many faces you can create: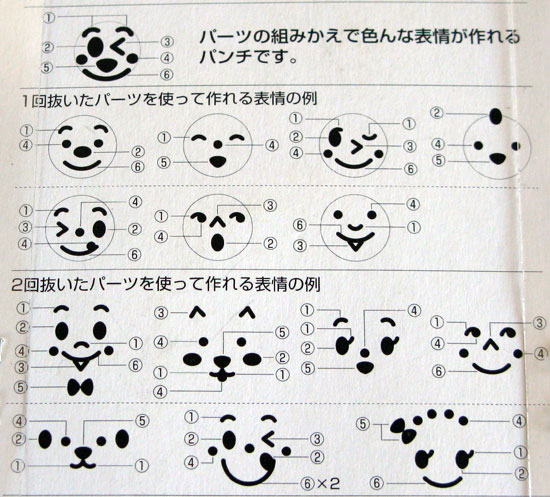 A closer shot of the smaller packets of items: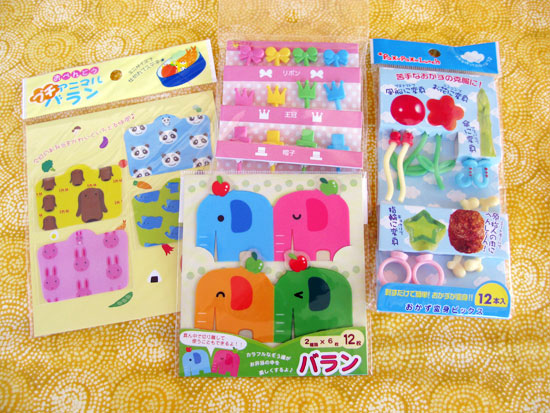 And the rest of the items:
A tempting and generous gift package, to say the least! And all it takes to have a chance to win is a $5 donation!
Deadline:
As we'd like the donation to go out as soon as possible, we will take donations until midnight Hawaii time on Wednesday, January 20, 2010. Donations made after the deadline will be included in the donation to the Red Cross, but will not be eligible for the drawing. Drawing will be done on Thursday or Friday following the deadline. The donation will be made to the Red Cross on that same day.
—-
The other day, Buddy wouldn't get into his carseat and I lost my temper and called him a "buttface". In hindsight, that wasn't such a good idea. Last night I heard him muttering to himself, "Butt in the FACE!". Today I made a bento for Mr. Pikko.
This is leftover tonkatsu from Grandma J's house that I packed for Mr. Pikko. I added the rice first, then the tonkatsu, then some garlic salt green beans, tomatoes, and carrot flowers. There would have been more tonkatsu, but Buddy kept coming by to ask for pieces to eat. It all worked out though, as there wasn't any more room for additional pieces. I boiled the beans first, then briefly fried them in olive oil and garlic salt.
We're all out of ikari sauce, so I made some with Worchestershire sauce and ketchup. He liked it! This is the same box I did the Korean leftovers bento in, except without the dividers.