Korean BBQ Chicken Bento
As I mentioned on Saturday, I had my cheat meal last Wednesday when we took the kids out to eat at Kim Chee 2. I left one piece of chicken for my lunch and swooped up all the kim chee and bean sprouts from the table to give myself a nicely rounded out bento with meat, starch, and veggies.
I packed this in one of my favorite bento boxes. I think I got this one from J-List, but a quick check shows that it's not in stock at the moment. I love the odd shape with the cut off circle and the smaller compartment has a half moon section divided into two, which made it perfect for carrying the kim chee. To pack the meat side, I put a small amount of rice on the bottom and then sliced up the chicken to place on top.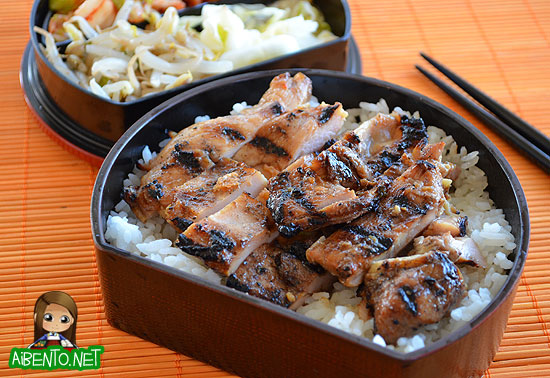 Here's a closer shot of the chicken. If you think it looks good, man, you should try eating there. The food at Kim Chee restaurants here on Oahu are just amazing. The bbq chicken, the kalbi, the meat jun, the sauces, the shrimp tempura. It makes me want to go back right now and eat more!
I kept track of my food all week and posted the results on Pikko's House. I managed to lose 1.3 lbs in my first week! I kept to my exercise plan, though failed in the dog walking department.
Baby Girl is still exercising with me, which actually is helping me a ton because she actually nags me to do it. She's still going through this weird no-rice phase where she'll only eat meat for dinner. The only time I can get her to eat rice is if I buy ochazuke packets and in that case I think if I let her, she'd eat a whole pot of rice herself.