Easter Somen Salad Bento
Today is Kuhio Day in Hawaii, meaning I am in the first day of a nice three day weekend. Mr. Pikko took Buddy to school, which meant that I had the day with Baby Girl. I decided I would give the video thing another go today and since I needed to do a video that showed more of myself, I did it from another angle. Daylight helped a lot, but I can't say much for the way it turned out in general. My dang background fell while I got up to check and I didn't notice until after I was done. Oops!
Anyway, I'll keep experimenting until I find a nice compromise.
The video I made is for this Easter Somen Salad Bento. It's got three little quail Easter eggs in the middle of a bird's nest. I made the eggs by boiling them, peeling them, then soaking them in diluted food coloring. The yellow one had curry powder in it too, but it took too long and I had to add food coloring to that as well.
I plan on entering this one in Japan Society's virtual bento contest. If you want to enter, check out the details here.
Baby Girl was completely freaking out over my little cutters, tiny eggs, and video making. She insisted on decorating her own eggs (chicken) and then started barking orders at me to slice her more fish sausage for her to cut into more shapes. I asked her why she was so interested since she doesn't like bento and she said it was because she didn't have to take it to school. So, the interest is there, I just have to get her over this embarrassment thing.
Here's a closer look at the eggs. Don't they look cute? I love the coloring for the blue one the most. I used a straw to make the little dots and a teeny tiny flower cutter from my Wilton gum paste set.
Early on you can see my little munchkin trying to cause trouble, which I left so that I filched music from Cafe World for giggles. Hope it's not too hard to see the food. Enjoy!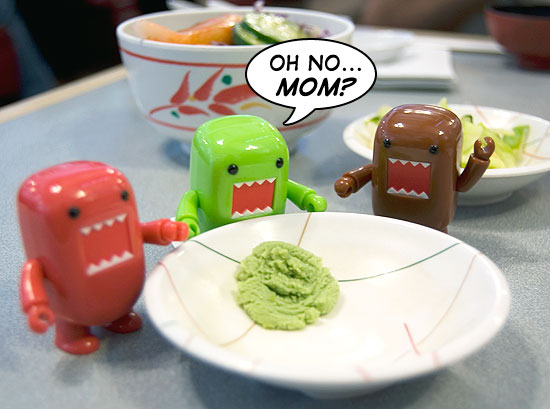 The other day, we ate at Gyotaku and the Hoodlums were having a blast until Wasabi saw what came with my sushi. He was really freaking out and I had to calm him down and let him know it was just food.