Eyeball Bento
My least favorite Indiana Jones movie is, by far, The Temple of Doom. I was traumatized by this movie at an early age. What specific age I was, I don't remember. All I know is that the combination of eyeball soup, monkey brain dessert, and live heart-ripping sacrifices was enough for me to never need to see that damn movie again. Still, this is Halloween, so time to suck it up and convert that eyeball soup into an eyeball bento.
It's been a while since I've posted anything themed, but this one has been stewing in my head for quite some time, so after we had a little pumpkin patch adventure yesterday, I finally got around to making this thing. I used leftover teriyaki salmon, which didn't look so presentable anymore, but made for a great Halloween bento food because of it's grossness.
The eyeballs are made out of rice, with an imitation crab pupil. The black is a small dot of nori cut with a hole puncher. Baby Girl helped me add ketchup to the eyes.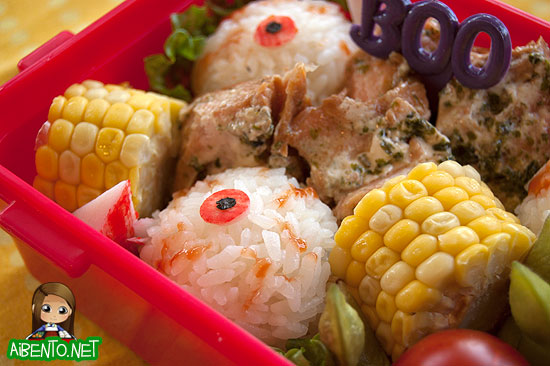 I've also got soy beans, corn on the cob, a cocktail tomato, and the leftover imitation crab stick. Baby Girl has been showing an interest in my bentos lately, but still no requests for them at school. Her sandwich bentos for trips come back with all the meat and cheese gone, but the bread still hanging around.
Still, this doesn't mean she hates what I do. This week they have a "dress like a celebrity" day and she informed me yesterday that she knows what celebrity she's going to dress up as. I didn't think she knew what a celebrity was, but apparently she does. I started thinking someone from Amazing Race or Apprentice (though I have no idea how she'd do that) since she likes those shows. Her answer took me by surprise.
Me.
Yeah, she said she was going to dress up as me! Cause, "You're famous!" I almost drove off the road in shock. (kidding)
Anyway, on to the pumpkin patch. We picked up Grandma and then headed out to Aloun Farms. Having gone there two times in previous years, I figured I didn't need to look up directions. It was when we were passing Ko 'Olina that I realized something was wrong and that we were swiftly heading out to Nanakuli instead of a pumpkin patch. I turned around and after much swearing under my breath and turning around a couple more times, we finally got there.
I'd been bitching and moaning about how hot and humid and windless it's been, but yesterday the wind was back in full force and blowing dirt all over the place. It was pretty miserable, especially since I have hard contact lenses where the smallest bit of dust is like a needle in your eye. After being led by my kids to a field since I was rendered blind by the dirt, I could finally open my eyes through the tears to take a few pictures.
Leave it to my daughter to pick her prettiest outfit and her Hello Kitty hapi coat for a dirt-riddled adventure.
They ran around looking and I told them to each pick a small pumpkin because I couldn't handle too much scraping. They each picked one and Buddy smiled ear to ear with his, pleased as punch.
Then, for some unknown reason, he dropped his pumpkin like a hot potato and stomped off, declaring, "I want a BIGGER one!" Of course, this means she has to have a bigger one too. They'd pick one, I'd take a picture of them with it, then it wasn't good enough and they'd go find another one. Eventually he ran off on his own and when he finally found one big enough, we put it in a bag and I thought we were done.
Then he had to go find one for Daddy. He went several rows away and picks up another big one (though smaller than his own) and starts huffing and puffing his way back to me with it.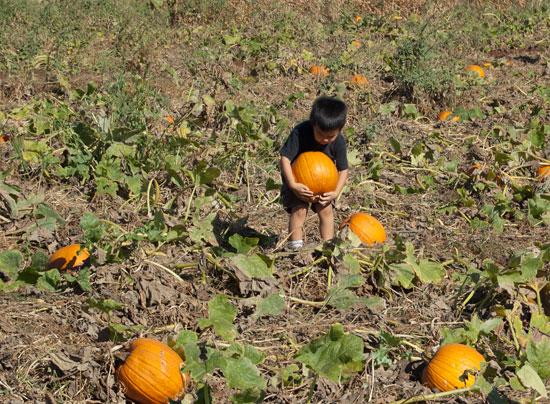 It took quite a bit of effort on his part. He had to stop several times and fell once, too. He was pretty pleased with himself though, so that was cute. Then they wanted white pumpkins. In the end, we went from one pumpkin for Mommy and two small ones for the kids to seven pumpkins and 4 onions (which they refuse to eat). They saw the onions and kept picking them up. Despite my insistence that they wouldn't eat them, they wanted to have them anyway.
I had a terrible time, but the point is for the kids to have fun. In the car I asked if they had fun. "No, it was too dusty."
Bah!