Gingerbread Pals Bento
It's been hard to find time to make charaben lately with the weather being chillier because I find it harder to get out of bed. Last night though, I made myself give it a go again for the first time in months and it felt really great to be back at the cute lunch game.
By the way, by "chillier" I'm talking in Hawaii terms, which is 65 degrees F. This should give you mainlanders a nice hearty laugh. (or the desire to choke my neck)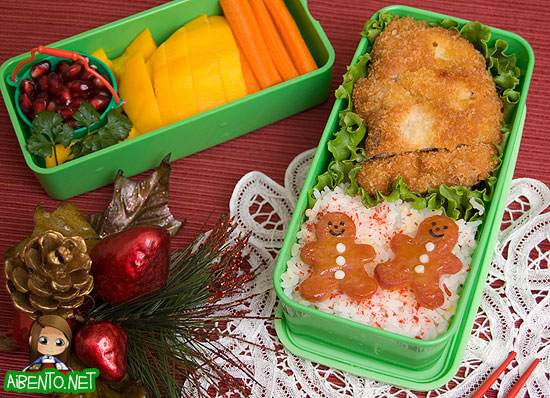 Here we have a pair of gingerbread buddies. I cut them out of spam when I was making dinner last night using a mini cookie cutter from the Wilton Holiday 6-Piece Mini Metal Cutter Set
, which can be found on Amazon. I cut their little buttons from white cheese using a piece of coffee straw, then sliced the buttons into thirds before applying with a toothpick.
In the lunch I have tonkatsu slices and rice sprinkled with red hana ebi to make it look a bit more festive. In the other tier I have pomegranate seeds, mango, and carrot sticks.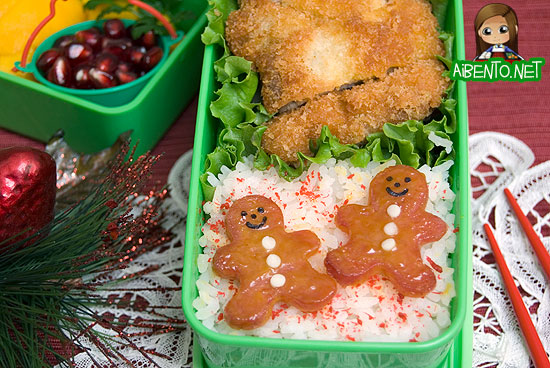 Here's a closer look at them, with little nori faces. They're topped with a brown sugar and mustard mixture. I'll write about how to make this on Learn2Cook soon, so keep an eye out for that recipe.
For this bento, I used #030.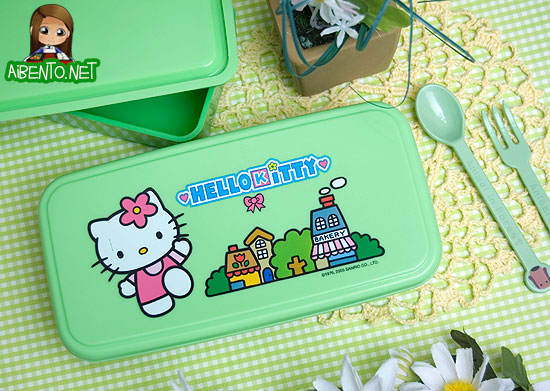 Yeah, I haven't done that in a while, haha! I really hope eventually I can have a bunch of really nice sets on Flickr.