Furikake Salmon Bento
Lately I've been feeling like something is really wrong with me. I've been fighting a cough for over a month and have had a wide assortment of other ailments that seem to stick around for a long time. Probably time to go see a doctor about it.
Last week while I was grocery shopping I picked up a small piece of salmon to make a special lunch for myself, which I ended up doing for Friday. I cut it up into four pieces, then sprinkled Nori Komi furikake
 on top, then lightly dusted it with flour and fried it in olive oil.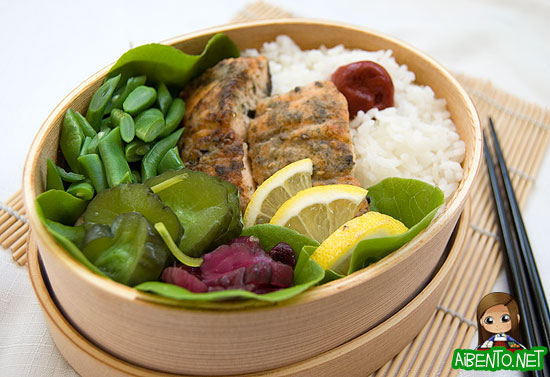 I used my mage-wappa from J-List for this one and packed it with fresh rice, an ume, some boiled green beans, cucumber pickles, eggplant pickles, and slices of lemon to eat with the salmon. I packed a little shoyu packet to go along with it. To keep the bottom of the box relatively clean, I lined the bottom with plastic wrap and then lined the sides with lettuce from Mr. Pikko's growbed. The green beans are from his growbed as well.
I found a really great place to take my bento photos: my bedroom! I never really thought about it until recently, but tons and tons of sunlight pours into the windows in the morning, so it's really an ideal place to provide lots of natural lighting. My last two photos have been taken in there and I've been very happy with the results, not needing to do very much post-editing.