Thanksgiving Wrap-Up
Ever since we moved to the house, all the family parties end up here and Thanksgiving was no exception. The big draw was that Mr. Pikko, whose idea of cooking involves driving to the nearest restaurant, volunteered to cook the turkey this year. A couple months ago, he succumbed to radio marketing and went down to a fishing store and brought home a Big Green Egg. If you're not sure what this is, it's a giant ceramic smoker/grill, sometimes called a Kamado Grill
.
The thing is massive and I have photos that I still need to blog about on Learn 2 Cook (for which I've had such a bad photo/blog post backlog built up!). Following a recipe online and fresh herbs from our yard, here's the final result:
Looks pretty amazing, doesn't it? I was very impressed! The best part about using this grill is that cooking on it is so cheap. Instead of leaving the oven on for 6 hours sucking electricity, he spent a couple dollars on lump charcoal that cooked the turkey all the way to it's lovely golden brown end. He brined it overnight and it tasted awesome!
Not wanting to be left with nothing to do, I made fresh dinner rolls from scratch. The kids recognized what I was doing right away and as soon as they saw the bowl of dough, they began shrieking and clawing each other over who got to punch the dough down. I also made the mashed potatoes, cut the sashimi, baked a pumpkin roll cake, stuffing, and made a pumpkin cheesecake we never did get to eat.
My sister-in-law, who never cooks either, made a really beautiful cobb salad. I was quite impressed and it tasted awesome! The avocado is from the yard.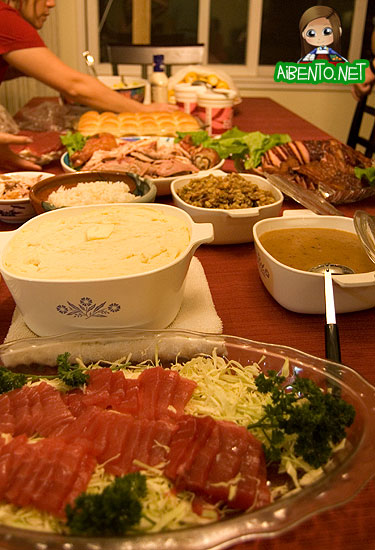 My brother brought sashimi too, so that's his platter in front. On the right is Mr. Pikko's special gravy that he made. It was amazing. I was very impressed! I made Pioneer Woman mashed potatoes, so you know that bowl of potatoes packed on a couple pounds on everyone. 😉
Here's the turkey all cut up and ready to eat and then there's my sashimi platter on the side of it. We pigged out, watched Horton Hears a Who
 on tv, then ate the custard pie I bought and the pumpkin roll I made. Grandma and Grandpa J forgot their pies on the counter at home, so the next day we went to eat leftovers at their house to help eat the pies. I was going to bring the pumpkin cheesecake I'd made, but forgot that one on my counter! So now I have this whole pumpkin cheesecake to eat all by myself! Normally that would be great, but since I'm totally getting fat again, this is a very bad thing!
Hope you all had a great one!