Haunted Chicken Parm Bento
Woohoo! It's Friday, and I've made it through an entire week of bentos for Mr. D. I feel dead inside but happy.
I'm just kidding. I do feel tired, though. I really need to make myself go to bed earlier, especially since I recently moved my morning alarm up fifteen minutes to 5:45.
Last week, after discovering that Mr. D doesn't like to eat hot food cold (to be fair, it's kind of a learned concession), I went searching for a thermal bento box. I looked at the Omiebox, which is insanely high rated, but after looking at the other images, that thing is huge. Like 7″ x 7″ huge. That's just too much for a kindergartener.
I ended up getting a Shunxin box, the two-stacker one. I wanted that because it wasn't huge, and you could still use it with only one tier, which is all I really need for Mr. D. With the second tier, I could always use it for Mikia's lunches. It came in a few days ago, and I had Mr. D test it to see if he could open it on his own, and he was able to just fine, so that was good. I would have used it sooner, but, well, mummies happened.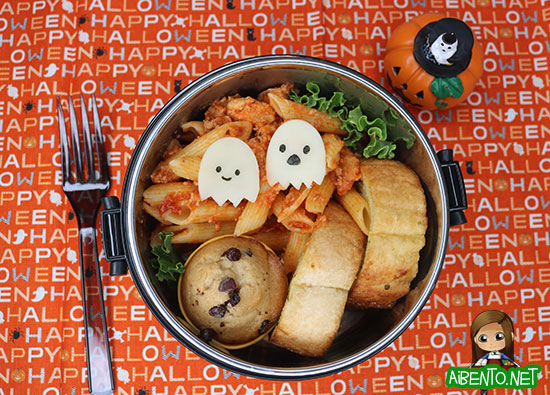 I used my Carla Craft mini punches for this one. I used a paw for the right ghost and a baby for the left ghost, but I sadly messed up my punch doing the left ghost because the darn thing is stuck! I'll try again later, because that punch makes a really cute tiny mouth.
Packed inside is some leftover chicken parm with penne. I cut up the chicken into little bite-sized cubes before heating it up with the pasta. And since the sauce was all hard and sparse, I added a bit of ketchup to help loosen it up, and that helped a lot. The garlic bread is a piece of Texas toast that I put in the toaster oven and sliced in half.
I put the insulating cover on while I worked on the ghosts so that the food would stay hot, then I put the ghosts on quickly to snap the pics. I told Mr. D that they'll probably be melted when lunchtime rolls around, but he didn't seem to mind. These ghosts were made from provolone, so they were a lot sturdier than when I use regular American Swiss slices. I'll definitely have to go with a stiffer cheese when I need it to stand on something uneven.
Hopefully he enjoys this one! Have a wonderful weekend. 🙂