KITV Charaben
I am on the verge of collapsing from exhaustion, as I've had maybe 6 hours of sleep over the last 48 hours. On Monday, I had to be at the LOST set extremely early, so early that to make it on time, I had to wake up at 3 am. Even then, I just barely made it because casting forgot to give me directions to the base camp and I forgot to ask. I found it eventually though, and thankfully I was only a couple minutes late.
Then, when I got home, Mr. Pikko and I had a dinner date and tickets for 3D IMAX Avatar. We got home at around 11 and then I had to wake up at 3:30 AM to make two bentos to take with me to KITV to do a quick interview with Susan Yuen for our Haiti Fundraiser. Unfortunately, in my sleep-deprived haze, I woke up and re-set the alarm for 4:15. When I woke up, I only had 45 minutes to make the lunches, become coherent, put on make-up, and convince my contacts to STOP CLAWING MY EYES.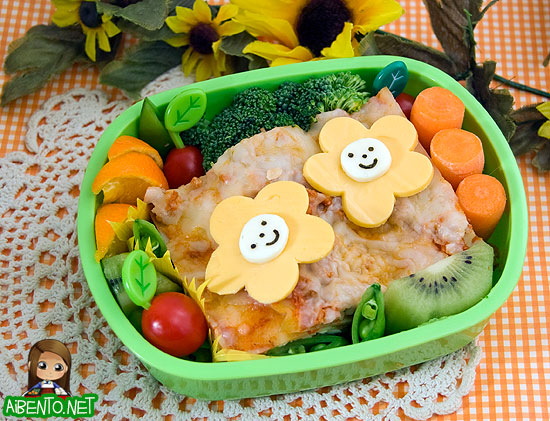 This is one of the bentos I made for the little interview, which I got thanks to a producer on Twitter. This one is a variation of my stars lasagna bento, which is also in my upcoming book with Maki Ogawa, Yum-Yum Bento Box.
I had planned to leave the house at 5 AM, since whenever I'm in a hurry, I tend to be late so this would have given me great buffer time. I ended up leaving the house at precisely 5:30 AM, which is really, really bad. To illustrate how bad this is, I have a nifty little map.
Potential stalkers should not get excited, this is a map from Costco to KITV. I live close enough where this is my Costco of choice, we'll leave it at that. You get the point though, it's like 16 miles and therefore, it's far. Google Maps says it takes 19 minutes and apparently, this is completely accurate because I got there at 5:49 AM. Make note that Google time estimates are probably calculated for 5:30 AM because this drive one hour later would take twice as long. I'm just lucky there was no traffic!
Normally, I'd be so nervous for something like this that I wouldn't be able to remember what my name is, but I was so dead tired that all I could think about was how nice a pillow would feel on my face. I got to meet Susan for the first time and made my first little appearance on TV. I also found out my cousin works at KITV in the morning, hahaha! His was the first face I saw when I went in and I was like, "Wuh?" It was quite amusing.
I had set the TiVo to tape it, so once I got home, I had a look to watch it. I found myself to look pretty gross on tv. I have eyes the size of golf balls and they looked red. I also have elephant ears, one of which appeared when I tucked my hair out of the way. I'll have a YouTube video up tomorrow hopefully, then you can all laugh at me.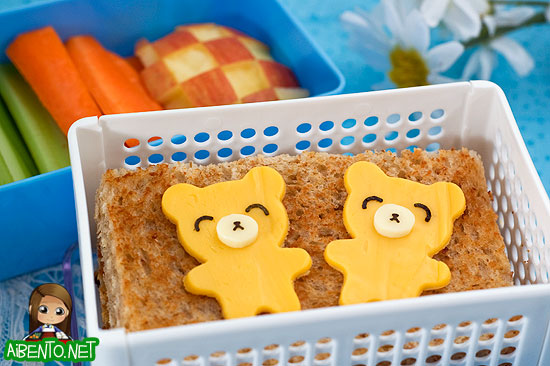 This is the other bento I made, which is a breakfast bento that I made with the intention of being able to either convince one of the kids to eat it or to just eat myself for breakfast and then I could have the other one for lunch. Buddy ended up asking to have this one and he asked for it in the cutest way. I had left it on the couch after I drove home and took the photos. He opened it up and after seeing the teddy bears, had this ear to ear grin on his face with eyes like the teddies and asked if he could pleeeeeeease eat it. After suffering so much bento humiliation from Baby Girl, I was more than happy to let him, especially since he loves carrots, celery, and apples. If I'd given it to my daughter, she'd probably have looked at me as if I was asking if she'd like to eat her shoes. He ate what he could on the way to school before saying he was too full.
This bento is almost identical to a bento that will also appear in Yum-Yum Bento Box, so if you like what you see in these two, be sure to buy the book when it comes out later this year!
Going back to LOST, my day on set was really exciting. I got to stand right next to three different characters on the show, though I have my doubts about whether I'll actually be on camera because when I look back at previous episodes, usually background people are extremely blurred.
Not to worry though, as I will meticulously analyze every blur wearing black and post screencaps of any of my possible appearances. If not, I really don't care, as the four days I got to spend on set have been a dream come true for a fan of the show like me. I mean, can you imagine watching someone on tv for six years and then suddenly they're just standing in front of you? It's surreal! Me and my sore feet will go back any day!
I also intend to apply to be an extra for Pirates of the Carribean 4. ARRRRRRR!