Rilakkuma Sandwich Bento
Summer fun has started for my kids, which means that I have to pack them lunches every day now. First day, I made them spam musubi bentos, though I haven't processed those images yet because I wanted to get this Rilakkuma one done so that I could post a quick review of the box, which was sent to me by Modes4U, a site that sells cute bento boxes.
As you can see, I made Baby Girl three sandwiches, which were a little less than a full sandwich. I don't have Rilakkuma cutouts, but any old bear cutter will do really if it has the right head shape. I used a bubble tea straw for the nose and one of my emoji punches for the face. There are two flower shaped sammies behind that one and I used the ham and cheese scraps to make ham and cheese toast for myself for breakfast.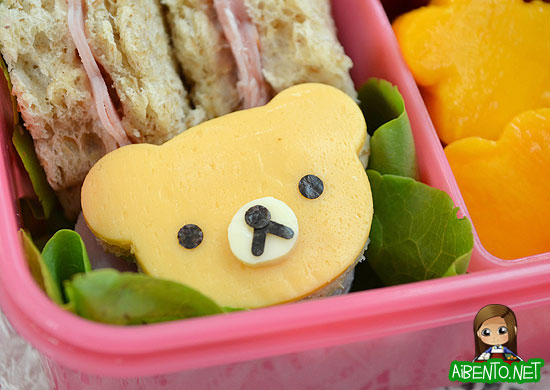 Here's a closer look at his face! On the side, I put cut up mango from our yard with a little pink fork to eat with and some grapes. While she didn't get to eat all the grapes, she did eat every sandwich, which is a serious triumph. She's begun to see the appeal to having her friends coo over her lunch, so she actually requested a cute lunch.
This Rilakkuma bento box is a decent size, pretty perfect for her appetite really and it comes with two divided sections, though I only used one this time to separate out the fruit. I forgot to snap photos of the cover for this one, but I'll be able to show you guys the cover (if you don't want to click the link to Modes4u) with the first lunch.
The cover simply presses over, so you probably can't throw it in the dishwasher like I do with most of my others, but it is slightly domed and secures very tightly. So that I don't get in the habit of leaving gross boxes with food in them, I'll probably continue to use this one box for her over the summer over and over, switching out occasionally. If you'd like to shop all of their Rilakkuma boxes, click here.
Buddy, on the other hand, broke one of my expensive side snap Doraemon bento boxes on the first day. I was quite upset because this is like the third box he's done that to and I told him eventually he'll break all my boy bento boxes and I'll have to send him to summer fun with pink ones. His eyes widened at this, but I think the lesson here is that I just can't send him with boxes that can't take being tossed around. Sigh.