Two Bentos and Chibo
Okay, so yesterday I had my yearly wimminz exam and so when I was packing up my laptop and getting ready to make the longass trek down to the parking lot, I remembered I'd forgotten to post my lunch. HOW UTTERLY THOUGHTLESS OF ME. *sigh* I need to slap myself.
Maybe I forgot to post it cause I didn't like the look of it. It reeks "lazy". There's no color, too. Wrong box for brown food! And then I just toss edamame in there like that makes it all better. Well it doesn't! Yech!! Food tasted great, though. Grandma J made chicken tofu. LOVED it!
I asked her for her pork hash recipe and she kind of laughed and said she just mixes pork, mushrooms, a bit of oyster sauce, and green onions. She doesn't measure. She cooks it in a pot, but obviously like you saw, you can fry them in little patties. Yum yum!
Okay so anyway, back on topic. That was yesterday's lunch and it was le good.
Today I am having teriyaki hamburger patty. I had to think of yet another way of presenting this since last time I did hamburger fried rice and before that I did toddler style meat loaf. This time I opted to slice them into little wedges. They weren't really tall so I took one of the wedges and sliced that in half flat-wise to use as a little "platform" for the wedges. That worked out nicely!
I made a ball onigiri and meant to put sesame seeds on it, but forgot it. I was in a hurry! I put in some sliced bell peppers and colorful tomatoes. Unfortunately, these are not illegal. I'm sure they taste good, just not illegal good. People back in Hilo have this saying that "Lichee tastes better when it's stolen." I know, you're thinking, what the hell kind of people does Pikko hang out with back home??? Stealing lichee isn't that big of a deal because even if you buy it down at the farmer's market, you know they must have stole that anyway. The same can be said for tangerines and some mangoes. Anyway, last of all, I have some julienned baby carrot and parsley.
When I recovered from the Flu of Death, I came back to work to find this amazing "award" on my desk:
Isn't that just about the COOLEST award you've ever seen!? She put everything in! Musubi with ume, sushi grass, fish, chicken, boiled egg, carrot, and even a lil soy sauce bottle. I was blown away, but hadn't had a chance to take a photo until yesterday. I don't know if she would want me to post her name, so I'll just say, you know who you are, thank you so so much! Of course I could just walk 20 steps to her desk to gush about it with her again but bento blog thanks are way cooler.
On to the Chibo pics!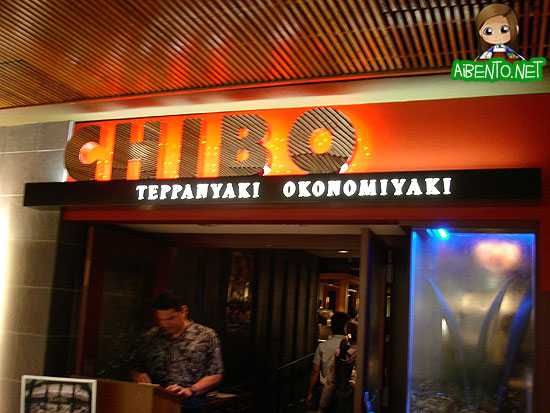 This, obviously, is the entrance to the bathroom.
I kid!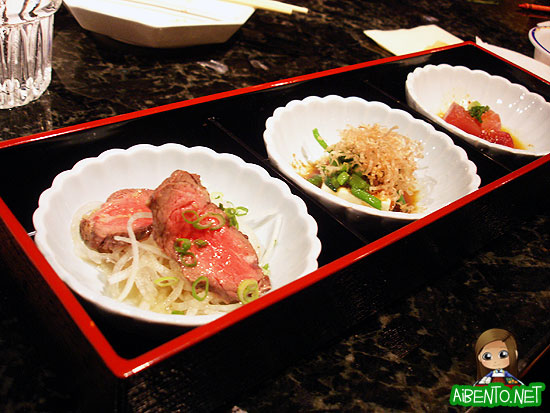 As I mentioned, I got a "special dinner" so it came with appetizers. This appetizer tray had beef tataki, tofu, and ahi poke.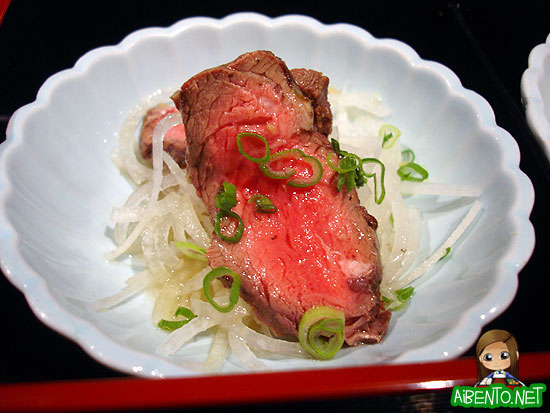 The beef. VERY good. I love medium rare! Or rare if you're going to nitpick.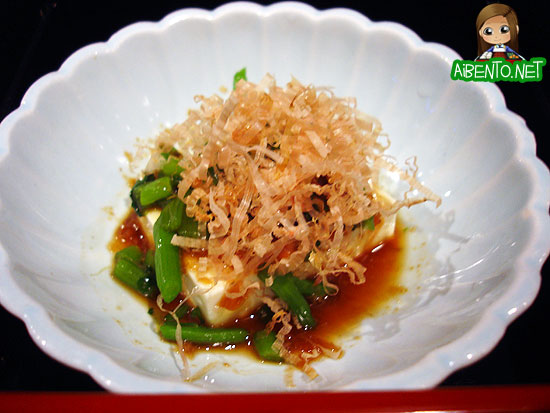 The tofu with bonito and green onion. Most of this went to Baby Girl, until I accidentally let a green onion about 1/2 millimeter in size get onto the piece I gave her. She has razor sharp green onion eyes.
This is the ahi poke. The first piece I ate was great, but the other two had a lot of tsuji, so I didn't like it overall.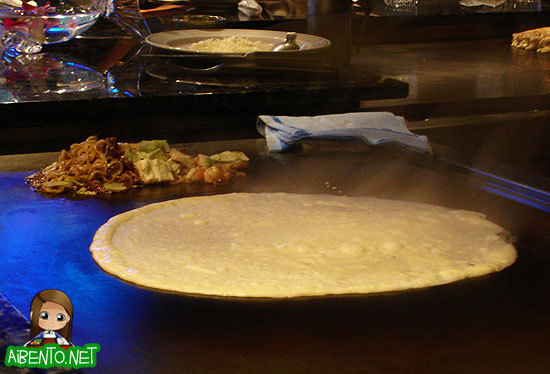 My sister-in-law got the yakisoba crepe style and this is her crepe laid out to cook. I got to try some and though it was interesting, I didn't really like it.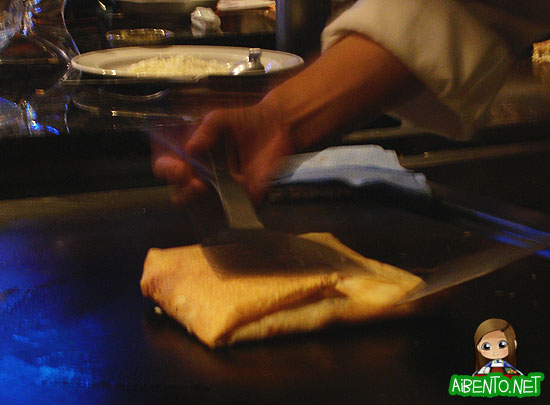 The crepe being folded up! He basically dumps the yakisoba into the middle and folds it neatly. Then he adds the okonomiyaki sauce to the top and slices it into fourths.
This is someone'e else's food. I think it's a cabbage one. If you read the Wikipedia article on okonomiyaki that I linked the other day you can get a better description of it. It looked like they were frying cole slaw to me!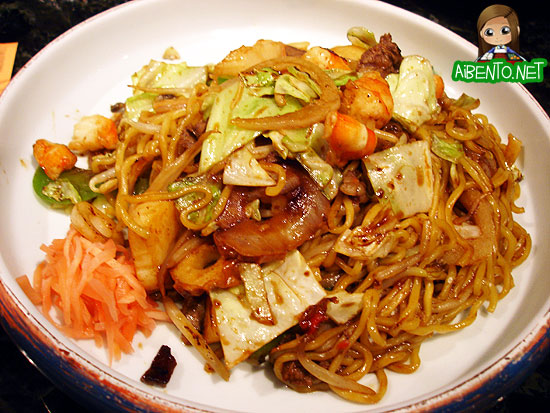 And finally we have here my yakisoba "Chibo". I asked for more shrimp instead of squid, but I guess that request didn't make it to the kitchen because I had squid in it. It worked out though, Buddy loved eating little donut shaped food thingers. It should be noted however, that he will eat practically anything. Except eggplant.
I got off my lazy ass and bought shoes for exercising at home and actually did Tae Bo last night. It didn't help that my legs were still rubbery from doing jumping squats, but at least I'm exercising again. I anticipate this lasting at LEAST 3 days. Wedding is less than two weeks away and I'm still at 128. At least I'm not at 132 though, which was where I was at a couple weeks ago.
This morning I was ready to rip my ears off and fling them at Mr. Pikko because I was so frustrated with my earrings. I bought new ones yesterday and for some reason my left ear decided it didn't WANT to have something going through it today. After like half an hour of trying and Mr. Pikko trying, I ended up with my stud in backwards cause that was the only way I could get it in. He tried really hard, but I really wanted to strangle him only because I was so mad at my ears and he was the closest breathing person. Who knew you could get so gosh darned MAD at your own body parts!